Edison Elementary
Providing our students with the supports, tools, and diverse opportunities needed to meet the challenges of an ever-changing world
Return to Headlines
Edison Teacher Secures Grant Support for Innovative Activities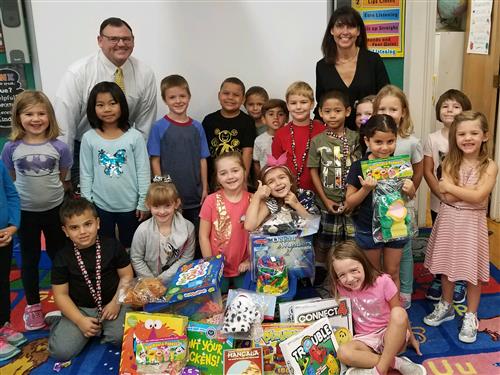 Edison Elementary School first-grade teacher Katie Sacco poses with her students and Principal David King after surprising her students with an assortment of fun games and activities she secured through grant funding.
It rained a lot in October, which would normally have been a disappointment to elementary school students hoping to play outside during recess. But students in Katie Sacco's first-grade class at Edison Elementary School had plenty to do indoors thanks to grant funding their teacher secured for a wide variety of different games and activities.
Edison Elementary School first-grade teacher Katie Sacco is a Certified Grant Writer, and she uses her skills and expertise in the area of grant writing to secure new and creative ways to benefit and engage her students.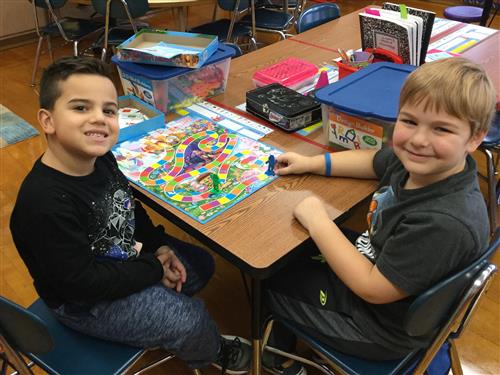 She recently received full funding for two projects through DonorsChoose.org, an online platform that allows donors to select classroom projects to support from throughout the country. One such project was "Play to Learn," which allowed Sacco to purchase indoor STEM (Science, Technology, Engineering and Math) and cooperative learning toys and activities. This included everything from board games to animal puppets, all of which could be used in the classroom environment to support learning and growth.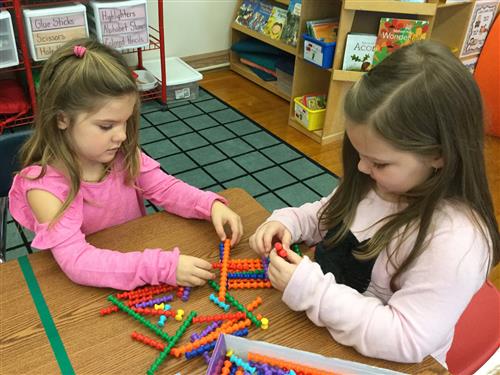 Sacco wrapped the games and activities like birthday presents, which the students were excited to unwrap when they arrived at school one day.
"The games and toys are perfect," Sacco wrote on her DonorsChoose.org page in a message thanking her supporters. "The puppets have become a favorite, as are the Playstix, the building sets, and Connect 4 and Trouble games along with the floor puzzles. The other board games are excellent for working with our school counselor in small groups as we help some of our classmates manage emotions, fair play, and teamwork. This year, I have five students who are English Language Learners, so these activities and games and toys are very helpful in building both language skills and friendships."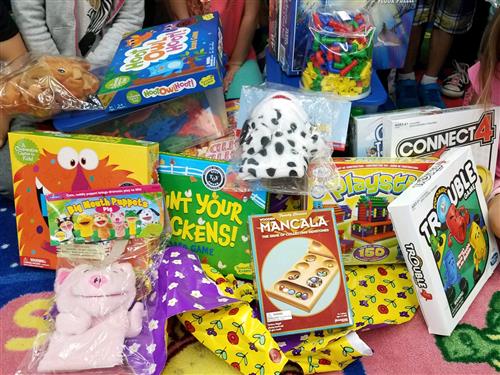 That was just one project. Sacco also secured funding for flexible seating – a wide range of seating options that provide students with opportunities to be comfortable and choose an environment that is conducive to their own unique learning style. She also received a $700 grant from Target to purchase tickets for her students to attend a show at Shea's Performing Arts Center in Buffalo.
As of December, Sacco has received more than $1,800 in dedicated funding through grant proposals, all of which are directly benefiting her students and other first-graders at Edison Elementary.
"As a Certified Grant Writer, it has been highly beneficial to my classroom and my students to have been fortunate enough to receive the funding to supplement student needs and educational initiatives," Sacco said. "My grant writing certification helps me to research and write grants to fund projects for my classroom and grade level."
You can visit her DonorsChoose.org site at donorschoose.org/Ms.Sacco.
Connect With Ken-Ton Schools