Kenmore East High School
Providing our students with the supports, tools, and diverse opportunities needed to meet the challenges of an ever-changing world
Return to Headlines
Ken-Ton to Celebrate Wellness Week (Mar. 13-16) Across District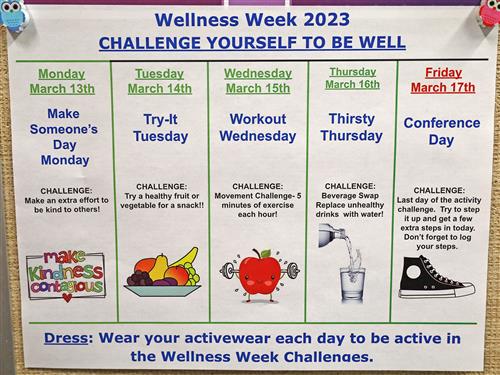 From March 13th-16th, the Ken-Ton School District will be celebrating "Wellness Week" in all of its school buildings. The point of having a Wellness Week is to encourage students and staff to get moving, eat plenty of fruits & vegetables, and overall make healthier choices in their everyday activities.
Throughout Ken-Ton, there will be a different theme each day during Wellness Week. Here's what the schedule looks like:
Monday, March 13th: "Make Someone's Day". This day will be all about spreading love and kindness to others. Some of the activities we're offering classes include Kindness Bingo, coloring sheets, and compliment pull tabs.
Tuesday, March 14th: "Healthy Snack Challenge". This day is all about making better choices when we reach for a snack. Our Food Service Department will be offering fresh kiwis and strawberries to students during the lunch hour, while staff will be offered chicken ceasar salads.
Wednesday, March 15th: "Work Out Wednesday". This day is all about getting up and moving at least once an hour throughout the entire school day. Classrooms will have a poster to keep track of their movement for each class period (or classroom hour). Movement activities can range from walking around the classroom, engaging in some brain activities, and even dancing for a few minutes.
Thursday, March 16th: "Beverage Swap Challenge". This day is all about trading in those sugary and unhealthy drinks for a nice and refreshing bottle of water. Students are encouraged to bring their own water bottle to school that can be filled out throughout the day, thanks to friendly reminders from the teachers and staff in each building.
While students have Friday, March 17th off due to the district-wide Superintendent's Conference Day, everyone is encouraged to take a few extra steps since they won't be walking around the hallways at school.
There will also be a Staff Activity Challenge which will require staff members to track their steps and activity minutes. The winning school will receive a trophy.
Connect With Ken-Ton Schools