Kenmore East High School
Providing our students with the supports, tools, and diverse opportunities needed to meet the challenges of an ever-changing world
Return to Headlines
Peace Activist Spreads Free Hugs Message to Students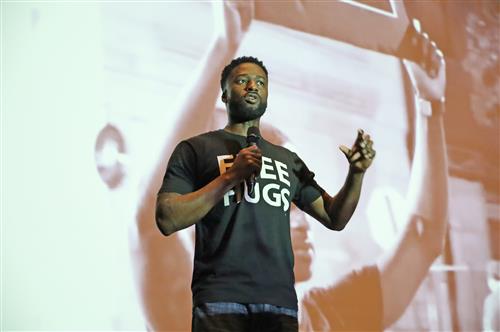 The Ken-Ton School District was excited to welcome Ken Nwadike Jr. to Kenmore West and East on Wednesday afternoon as part of the Free Hugs Project.
Nwadike is a peace activist and video journalist known nationally as the "Free Hugs Guy." He launched the Free Hugs Project in 2014 to spread love in response to the bombing of the Boston Marathon. Since then, his efforts have expanded across the U.S. and his 'Free Hugs' videos have
reached hundreds of millions of views on Facebook and YouTube. Nwadike has also made many
appearances on news programs and radio broadcasts worldwide, including CNN, USA Today,
Good Morning Britain, and BBC News.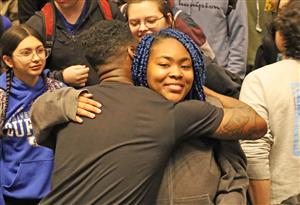 He held a presentation at Kenmore West on Wednesday morning, followed by a presentation at Kenmore East. After his speech, he answered questions from students in the audience and stayed to take pictures and engage in important conversations.
"In these times, we see a great need to build strong relationships with our students in order for
them to feel safe and ready to learn," said KTUFSD Superintendent Sabatino Cimato. "We are
extremely excited to partner with the Town of Tonawanda Youth, Parks & Recreation
Department to bring Mr. Nwadike to Ken-Ton. His motivational and inspirational message can
benefit students and community members alike."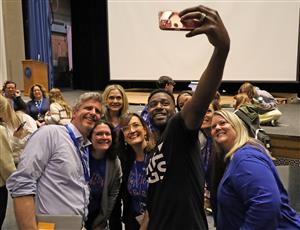 On Wednesday evening, Nwadike will hold one more presentation at Franklin Middle for members of the community. The event is made possible thanks to support from the Town of Tonawanda Parks & Rec Department, Ken-Ton Closet, Ken-Ton Friends of Youth Foundation, Kenmore West HSA, and Kenmore East PTSA.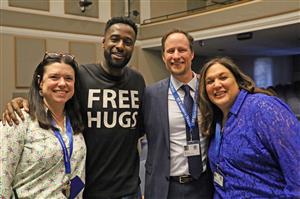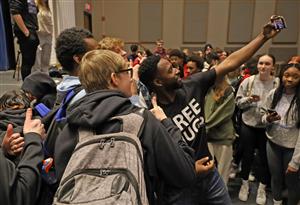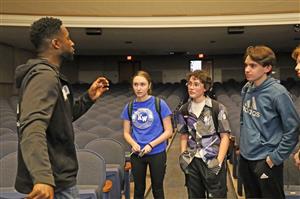 Connect With Ken-Ton Schools