Kenmore East High School
Providing our students with the supports, tools, and diverse opportunities needed to meet the challenges of an ever-changing world
Return to Headlines
Town & District Staff Recognized for Life-Saving Blizzard Efforts

On Tuesday, January 10th, Superintendent Sabatino Cimato and the Board of Education were proud to recognize 32 individuals from the Ken-Ton School District staff and the Town of Tonawanda for their life-saving efforts during the deadly blizzard that struck Western New York beginning December 23rd.
The storm was unprecedented in scope and intensity, with roads quickly becoming impassable and many people stranded in vehicles. Thousands of people also lost power and heat but had nowhere to go as temperatures in their homes dropped. Leading up to the storm, the Town of Tonawanda initiated a plan to establish warming centers in the town to accommodate individuals who lost power or became stranded. In addition to the Sheridan, Brighton, and Kenilworth fire halls, a warming center was also established at the Hoover Complex in partnership with the Ken-Ton School District.
This warming center operated for approximately 80 hours over a four-day period beginning at 12 p.m. Friday, December 23rd as the storm settled over the Town of Tonawanda. The center provided a safe, warm refuge for 106 people, including 24 children as young as 2 weeks old along with 82 adults ranging from age 18 to 92. Throughout the duration of the storm, these individuals had access to a facility that was secure, supervised, heated, and powered, as well as a fully stocked kitchen which provided three meals a day plus snacks and drinks.
At the Tuesday, January 10th Board of Education meeting, Superintendent Cimato and Board members recognized individuals from the town and district who made this possible, including:
Town of Tonawanda Supervisor Joseph Emminger, who kept the district apprised on a daily basis throughout the duration of the storm while overseeing all aspects of the town's response
Town of Tonawanda Emergency Services Coordinators James Chatham and Robert Lutz, who were instrumental in implementing the warming shelter at the Hoover Complex and who spent many hours at the shelter providing operational support, relief, and demobilization
Members of the Town of Tonawanda Community Emergency Response Team (CERT) who volunteered at the warming shelter, including Autumn Aquilina, Trisha Aquilina, Peter D'Arrigo, Lynn DiAgostino, Jennie Maggiore, Jack Sullivan, Jim Tippett
Town of Tonawanda Police officers who helped during the duration of the storm, including Officers Christopher Ryan and Colin Farrell who provided assistance and security at the warming shelter during the storm
Members of the Buildings & Grounds Department who helped with planning and preparations for the Hoover warming center as well as preparing all district facilities for the blizzard, including Director of Facilities Tim Ames, Assistant Director of Facilities John Wille (who also managed operations throughout the district during the storm), Russ Carver, Tom Gominiak, Tom Green, Bill Guarino, and Andy Schneggenburger
Individuals from the Food Service and Buildings & Grounds Departments who made sure the Hoover kitchen was fully stocked with food when the storm hit, including Food Service Director Kim Roll, Erik Gademske, Natalie Meldrum, and Aimee Nice
District personnel who took time away from their families from December 23rd to December 26th and provided on-site support at the Hoover Complex and assisted with snow removal efforts, including Mr. Wille, Charles Freiert, Mr. Gominiak, Mr. Green, Cameron Lauricella, Nick Mannix, Michael Muscarella, Mike Panaro, Richard Pisa, and Jesse Schlagenhauf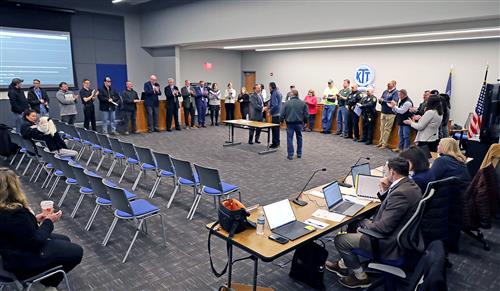 Another group of individuals were recognized for their efforts on the evening of December 26th. Several feet of snow had fallen and the area had only begun the long recovery process when a major fire broke out at the Safire Rehabilitation residence on Sheridan Drive. This fire could have necessitated the evacuation and relocation of residents while firefighters worked to contain and extinguish the blaze. The district received a request to assist in being prepared should residents need to be transported to another location. Thanks to their efforts, a path was cleared at the Transportation Department on Military Road and a school bus was ready to be used within minutes of receiving the request. These individuals included:
Director of Transportation Mike Klemann, Mr. Freiert, Donald Meidel, and Mr. Pisa
"On behalf of the Ken-Ton School District, I would like to extend our sincerest gratitude to all these individuals for their outstanding dedication and service," Cimato said. "Their efforts were nothing short of heroic and their extraordinary efforts very likely saved lives in our community."
Connect With Ken-Ton Schools