Kenmore East High School
Providing our students with the supports, tools, and diverse opportunities needed to meet the challenges of an ever-changing world
Return to Headlines
AD Receives James Rusin Award for Commitment to Girls Hockey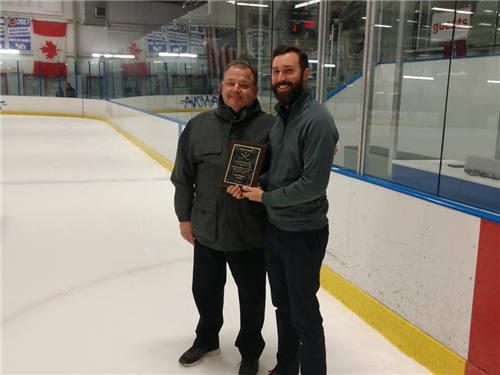 Brett Banker, Ken-Ton School District Athletic Director, left, receives the Dr. James Rusin Memorial Award from Matt Miller, Kenmore/Grand Island assistant coach and assistant league chairperson.
As the Western New York Girls Ice Hockey Federation closes out its 10th year, Ken-Ton School District Athletic Director Brett Banker has been awarded the Dr. James Rusin Memorial Award for his tireless efforts to advance the sport of girls ice hockey.
The late Dr. Rusin, who passed away in 2013, spearheaded the effort that led to the formation of the Federation. The award was established to honor Dr. Rusin's memory and distinguish those like Banker who have worked hard to advance the sport of girls ice hockey.
"Nobody has a stronger commitment to Varsity Girls Ice Hockey than Brett Banker," said Jeff Orlowski, head coach of the Kenmore/Grand Island team. Banker was presented with the award by Kenmore/Grand Island assistant coach and assistant league chairperson Matt Miller at the Federation's championship game at Northtown Center on Jan. 23.
More than a decade ago, as the sectional chair for the boys ice hockey federation, Banker recognized how many girls also wished to play hockey. He alongside Dr. Rusin worked with athletic directors from school districts across Western New York to create a varsity girls ice hockey league so that they too would have the opportunity to compete.
In 2010, after several years of showcase games featuring girls high school hockey players, they were finally successful in creating a seven-team league that included Williamsville, Monsignor Martin, Kenmore-Town of Tonawanda, West Seneca, Frontier/Orchard Park, Amherst/Sweethome, and Lancaster.
When the league first started, there were many who believed it would not last. But Banker and Dr. Rusin would not let that happen, and Banker continued on after Dr. Rusin passed away. He served as the Section Secretary for girls ice hockey for six years and has continued to advance girls ice hockey throughout Western New York.
Since 2010, the league has grown to include 19 public school districts and Monsignor Martin, which encompasses six private schools.
"Brett's goal is to get every girls hockey player a chance to play for their high school," Orlowski said. "Simply put, if it wasn't for people like Brett Banker, there would be no girls varsity hockey."
Banker has served as the Ken-Ton School District's Director of Health, Physical Education, Recreation and Athletics since 1992, overseeing one of the largest athletics programs in Upstate New York for 27 years as well as physical education, health education, school nurses and medical operations, facilities rentals, and wellness initiatives across the district.
Throughout Banker's career, he has been active at the league, section, and state level. Since March, Banker has served as president of the New York State Athletic Administrators Association (NYSAAA), an organization which supports athletic administrators in hundreds of school districts and secondary schools and helps facilitate interscholastic sports across New York State.
You can read more about Banker's career here.
Connect With Ken-Ton Schools