Kenmore East High School
Providing our students with the supports, tools, and diverse opportunities needed to meet the challenges of an ever-changing world
Return to Headlines
Kenmore East Musician Performs at All-Eastern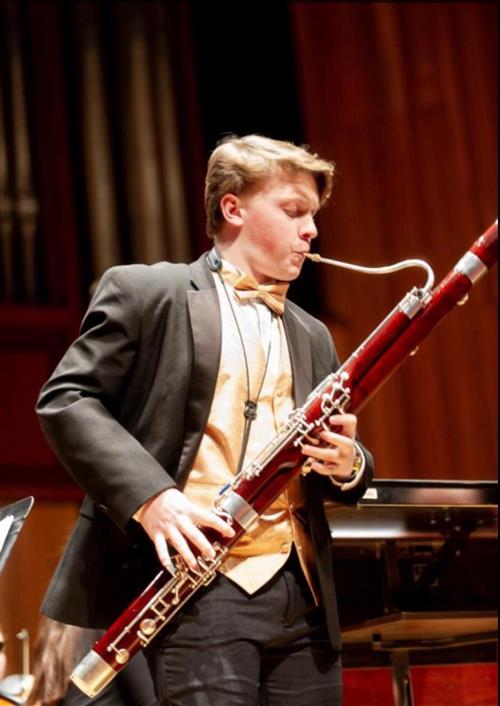 Kenmore East High School senior Alex "A.J." Neubert has achieved an extraordinary level of success, establishing himself as one of the best young bassoon players not only in New York State but across the entire Northeastern United States as well.
Most recently, A.J. was accepted into the ultra-selective National Association for Music Educators (NAFME) All-Eastern ensemble, which represents the most talented high school performers from 11 states, Washington D.C., and NAFME's European association. A.J. departed for Pittsburgh on April 4 with band director Phil Aguglia to participate in the All-Eastern conference, and after several days of rehearsals with prominent conductors, performed with his peers for thousands of people at the 30,000-square-foot Spirit of Pittsburgh Ballroom at the David L. Lawrence Convention Center.
A.J.'s acceptance into the All-Eastern ensemble is just the latest in a string of accomplishments over the past few months:
In November, A.J. performed as part of the New York State School Music Association (NYSSMA) Conference All-State Band, representing the top students in New York State. A.J. has also been accepted into every other honor band and orchestra he has auditioned for, including the All-County, Area All-State, New York State Band Directors Association, Capital University, Buffalo State College, Roberts Wesleyan College, Philadelphia International Music Festival, and Greater Buffalo Youth Orchestra ensembles.

In February, A.J. was invited to take part in a panel at the Western New York Symposium on Music in Our Schools at Kleinhans Music Hall.

A.J. has been featured as a soloist with the selective GBYO and earned the opportunity to perform in venues across Europe last spring during the GBYO's European tour.

In November, a film crew recorded A.J. during rehearsals at Kenmore East and at a GBYO concert for ScholarshipAuditions.com, a service that connects student musicians and college recruiters, after A.J. was selected to be a student ambassador for the site.

A.J. spent much of the summer at the prestigious Boston University Tanglewood Institute music camp. His participation in this prominent program led to him auditioning for the national radio show "From the Top," for which he was a finalist.

A.J. has been accepted into some the premier music schools in North America including the New England conservatory; the Oberlin Conservatory of Music in Oberlin, Ohio; Eastman School of Music in Rochester; and the Royal Conservatory of Music in Toronto. He has received more than $1 million in collegiate scholarship offers to fund his undergraduate studies including prestigious awards such as the Erie County Music Educators Association and Buffalo Philharmonic Orchestra scholarships.
"As a middle school bassoonist, A.J. was already far ahead of his peers in terms of tone, reading, and his innate musical sensibility," Aguglia said. "He started studying with Mrs. Ellen Barnum who is on the staff at two universities and a regular sub with the Buffalo Philharmonic Orchestra. Both Ellen and his middle school band director, Mrs. Yu, recognized that A.J. had a gift for the bassoon and were careful to groom him with all the fundamentals he would need to fulfil his potential."
Despite his active involvement in music, A.J. still finds time for other endeavors. He was a defenseman for the Kenmore East Varsity Ice Hockey Team and was also part of the school's Model United Nations team which overcame 53 other teams to win the top honor at the Western New York Model UN competition: Best Overall Delegation.
At Kenmore East, A.J. is part of Symphonic Winds, Select Choir, Orchestra, Pit Orchestra, Woodwind Quintet, and Honors Jazz Band, as well as other jazz/blues ensembles and combos. He was even hired to record an album with a Pink Floyd tribute band, and performs for a Grateful Dead tribute band. He is also a member of the Band Council and president of the Select Choir, has presided over and conducted the Wind Ensemble, and dedicates his time to supporting younger bassoon players and instrumentalists.
"In my 27 years of teaching high school, I have had the good fortune to work with many bright and talented kids who have gone on to have wonderful careers in the music industry," Aguglia said. "It is without hesitation that I say that A.J. Neubert is the finest of them all. What separates A.J. from other students is how he seeks out knowledge and opportunities, transposes music to any key, plays all genres, and the amount of study he dedicates to being a musician."
Connect With Ken-Ton Schools