Hoover Elementary
Providing our students with the supports, tools, and diverse opportunities needed to meet the challenges of an ever-changing world
Return to Headlines
Ken-Ton Named a Best Community for Music Education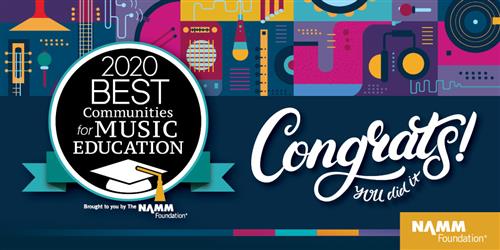 For the 10th year in a row, the Ken-Ton School District has been designated as a Best Community for Music Education by the NAMM (National Association of Music Merchants) Foundation in recognition of its outstanding K-12 music programs and commitment to music education. Ken-Ton was once again among the tiny fraction of the nation's approximately 15,000 school districts to earn this prestigious distinction because of the efforts of teachers, administrators, parents, students, Board of Education members, and community leaders to make music education an integral part of the core curriculum.
With approximately 30 full-time music teachers in the Ken-Ton School District, music education begins in kindergarten, and vocal and instrumental education begins in Grade 4. Students can take part in band, orchestra, and chorus ensembles at the elementary, middle, and high school level. There are a wide variety of different band, jazz, orchestra, and vocal ensembles at Kenmore East High School and Kenmore West High School of varying sizes, compositions, and skill levels, as well as many music electives students can take advantage of including Advanced Placement (AP) Music and International Baccalaureate (IB) Music.
Many of the Ken-Ton School District's talented music teachers are accomplished performers and are active in the Western New York music industry. Students and ensembles perform at a variety of venues all across Western New York throughout the year. Students routinely perform exceptionally in regional and state competitions and earn a place in a variety of highly selective local, regional, national, and even international ensembles.
Connect With Ken-Ton Schools