Kenmore East High School
Providing our students with the supports, tools, and diverse opportunities needed to meet the challenges of an ever-changing world
Return to Headlines
Ken-Ton Once Again Named 'Best Community for Music Education'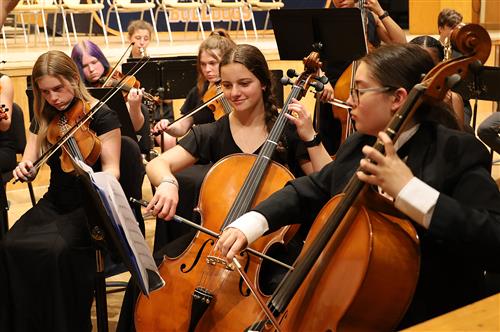 For the 13th year in a row, the Kenmore-Town of Tonawanda UFSD has been designated as a Best Community for Music Education by the NAMM (National Association of Music Merchants) Foundation in recognition of its outstanding K-12 music programs and commitment to music education.

Each year, the NAMM Foundation singles out school districts across the U.S. for the efforts of teachers, administrators, parents, students, Board of Education members, and community leaders to make music education part of the core curriculum. Only 830 districts, representing just 5 percent of approximately 17,000 school districts nationwide, earned this prestigious distinction.

According to the NAMM Foundation, research into music education continues to demonstrate educational/cognitive and social skill benefits for children who make music. Studies have found a link between participation in music programs and life-long academic success, including higher high school graduation rates and college attendance. Studies have also shown that early exposure to music education improves how the brain processes and assimilates sounds, a trait that lasts well into adulthood.

In Ken-Ton Schools, music is an extremely important part of the curriculum at all grade levels. Music education begins in kindergarten for every student with band, chorus, and orchestra ensembles beginning in fourth grade. There are a wide variety of different band, jazz, orchestra, and vocal ensembles of varying sizes, compositions, and skill levels, as well as many music electives that students can take advantage of including Advanced Placement (AP) and International Baccalaureate (IB) music classes.

Many Ken-Ton music teachers are accomplished performers and are count themselves among the most talented members of the regional music community. They routinely bring their student ensembles out into the community, performing at a variety of venues all across Western New York. Ken-Ton students and ensembles routinely perform exceptionally in regional and state competitions. In recent years, hundreds of students have earned a place in All-County, Area All-State, and Conference All-State festivals as well as other highly selective regional, national, and even international ensembles. Additionally, numerous Ken-Ton graduates have gone on to the nation's elite music colleges and are now professional musicians.

The NAMM Foundation is a non-profit philanthropic organization supported in part by the National Association of Music Merchants, a trade association representing the music products industry. The NAMM Foundation advances active participation in music making across the lifespan by supporting scientific research, philanthropic giving and public service programs. For more information, visit www.nammfoundation.org.
Connect With Ken-Ton Schools