Kenmore East High School
Providing our students with the supports, tools, and diverse opportunities needed to meet the challenges of an ever-changing world
Return to Headlines
4 From Ken-Ton Win 2023 WNYESC Awards of Excellence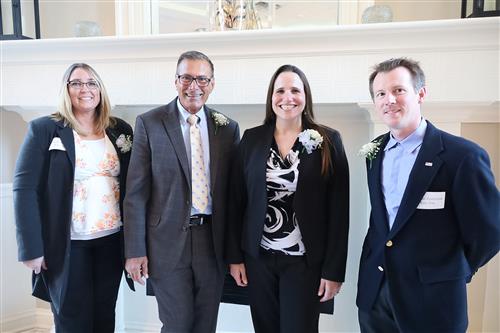 From left, Kelly White, Matt Chimera, Laura Anderson, and Thomas Gominiak.
On Wednesday, April 26th, four members of the Ken-Ton School District staff and leadership team were among 18 individuals from across Western New York to be presented the 2023 Western New York Educational Service Council (WNYESC) 2023 Award of Excellence: Laura Anderson, Matthew Chimera, Thomas Gominiak, and Kelly White.
WNYESC is a service organization that provides support for the educational community in Western New York, such as professional development, mentoring opportunities, and research. Each year, WNYESC honors exceptional teachers, support staff, administrators, and Board of Education members for their outstanding service to their students, schools, district, and community. This year, individuals from Ken-Ton won in each of those four categories.
Laura Anderson, Kenmore West High School Music Teacher and Ken-Ton School District Music Coordinator, received the WNYESC Award of Excellence for Teaching. Ms. Anderson has been with the district for 20 years. In her capacity as Music Coordinator, she works constantly to support programming in all schools and increase student participation in music. She is also an extremely accomplished saxophone player who has been ranked among the best jazz performers in Western New York.

Matthew Chimera, Board President, received the WNYESC Award of Excellence in Boardsmanship. In addition to his service on our Board of Education, Mr. Chimera touched the lives of countless students as a teacher for 38 years and a coach for 25 years. As a teacher, Mr. Chimera served as a Technology Integrator and Teacher Mentor. He was also instrumental in founding the extremely successful Big Picture Program and spent the last seven years of his career as a Big Picture Teacher.

Thomas Gominiak, Head Custodian of Hoover Elementary and Middle School, received the WNYESC Award of Excellence for Support Services. Mr. Gominiak has worked in education for 16 years. He works tirelessly to support a clean and safe environment at Hoover and is known for his enthusiasm, passion, and pride in his work. He was also recognized for his service during the December 2022 blizzard as Hoover served as a warming center for more than 106 people.

Kelly White, Assistant Superintendent for Curriculum, Leadership & Instruction, received the WNYESC Award of Excellence for Administrative Leadership. Ms. White has been with the district for six years and has demonstrated outstanding leadership in the areas of curriculum, instruction, school leadership, special education, student services, and more. She has spearheaded numerous initiatives which have had a tremendous impact on student achievement, growth, and social-emotional wellness.
Additionally, Mr. Chimera will receive the Erie County Association of School Boards Laura M. Burns Advocacy for Children Award. He will be honored at the ECASB Dinner on June 8th.
Please join us in congratulating these individuals for their outstanding achievements. They have truly made us proud!
Connect With Ken-Ton Schools