Kenmore East High School
Providing our students with the supports, tools, and diverse opportunities needed to meet the challenges of an ever-changing world
Return to Headlines
Assistant Athletic Director Earns Elite Professional Distinction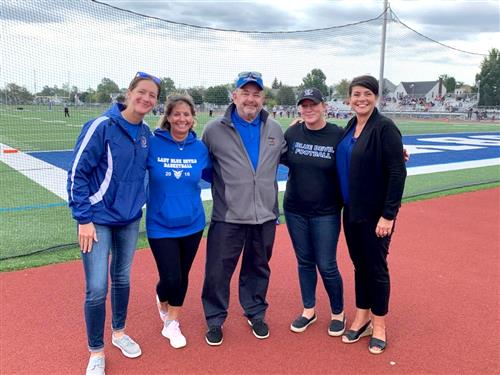 Lindsay Bergman, Assistant Director of Health, PE, Recreation & Athletics, far left, with the rest of the Athletic Office team.
The National Interscholastic Athletic Administrators Association (NIAAA) recently recognized Lindsay Bergman, Assistant Director of Health, PE, Recreation & Athletics, for earning her certification as a Master Athletic Administrator. This is one of the highest professional levels that athletic administrators can receive in the U.S.
To earn this distinction, Lindsay had to demonstrate exemplary knowledge, contributions and on-going professional development in the field of interscholastic athletic administration. The certification procedure is an intensive process that includes a thorough evaluation of the candidate's educational background and experience as well as NIAAA Leadership Courses and professional contributions. It culminates with a practical written or oral presentation project.
"Lindsay Bergman is one of a very elite group of interscholastic athletic administrators nationwide to attain this level of professionalism," the NIAAA stated in its announcement.
The NIAAA is a national professional organization encompassing all 50 statewide athletic administrator associations in the U.S. and more than 12,000 individual members. It is dedicated to promoting the professional growth of high school athletic administrators and preserving the educational nature of interscholastic athletics and the place of these programs in the secondary school curriculum.
In the short time she has been at Ken-Ton, Lindsay has already had an extremely positive impact on district athletic, physical education and health programs. She has been instrumental in creating an enhanced social media presence for the Athletics Department on Twitter, Instagram and Facebook with high-quality content for teams, coaches and athletes. She also provided direction and oversight for the transition to an improved student-athlete registration system called Final Forms, and she was instrumental in implementing HUDL which provides streaming opportunities for several teams.
Lindsay remains extremely active at the league, section, and state level. She currently serves as the NFL's Female Representative on the Section VI Athletic Council, Awards Chair for the local NYS Athletic Administrators Association (NYSAAA), a member of the Section VI Diversity, Equity and Inclusion Committee and a representative on the Student Athlete Development Committee. She also served on both the 2020 and 2021 NYSAAA Conference Planning Teams and as a conference moderator. Lindsay was the recipient of the Section VI Emerging Athletic Administrator Award earlier this year.
Connect With Ken-Ton Schools