Franklin Middle School
Providing our students with the supports, tools, and diverse opportunities needed to meet the challenges of an ever-changing world
Return to Headlines
Ken-Ton Students Place 2nd, 3rd at 2018 Physics Olympics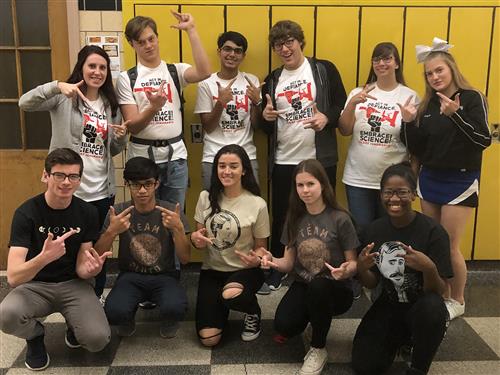 The Kenmore West High School Physics Olympics team.
Ken-Ton middle and high school students performed exceptionally at the 2018 Buffalo State College Physics Olympics on Dec. 1, with teams from Kenmore East High School, Kenmore West High School, and Franklin Middle School competing.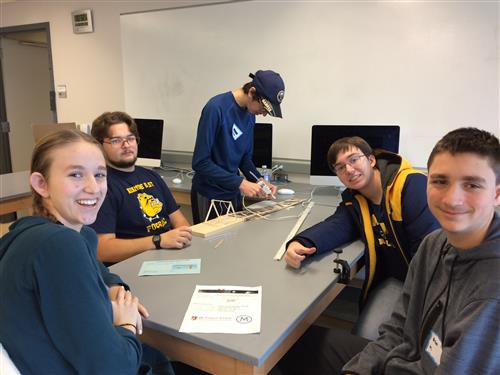 Kenmore East High School Physics Olympics team.
A team from Kenmore West comprised of Maura Dungan, Patrick Mohr, Liv Guarino, and Aaron Mendez came in second place overall out of 27 teams from high schools throughout Western New York.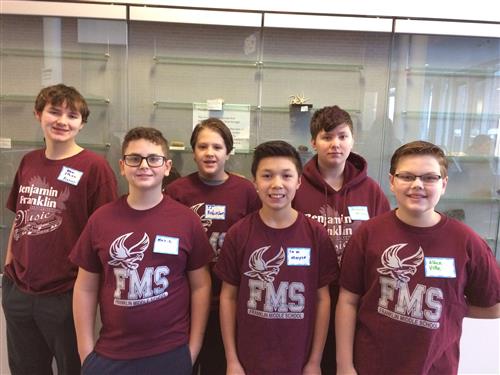 Franklin Middle School Physics Olympics team.
Six students represented Franklin Middle School: Max Campana, Samson Mayle, Miranda Maisano, Ethan Pierson, TJ Robinson, and Alden Volle. Overall, Franklin Middle ranked third among all the middle schools.
The competition is sponsored each year by the Western New York Physics Teachers Association and the Physics Department and New York State Master Teacher Program at Buffalo State College. The competition consisted of different challenging activities all requiring thorough and practical knowledge in physics.
The events at this year's competition included:
Craft Stick Crane: The goal is to design and build a crane using hot glue and craft sticks that can hold the most weight over the edge of a table. The farther the hanging weight is from the edge of the table, the higher the score.
Egg Bungee Jump: The goal is to safely have an egg bungee jump and get as close to the floor as possible. Scoring will be based on how close the egg comes to hitting the floor – but if it hits the floor and the egg is hurt, then the score is zero.
Bowling Ball Bash: The goal is to use some basic materials to build a device that will minimize the effect of a bowling ball crashing against a wall. The score will be based on the force that was put on the wall during the collision. The smaller the force, the higher the score.
Connect With Ken-Ton Schools