Hoover Middle School
Providing our students with the supports, tools, and diverse opportunities needed to meet the challenges of an ever-changing world
Return to Headlines
After 13 Seasons, Kenmore Lacrosse Now Officially a District Sport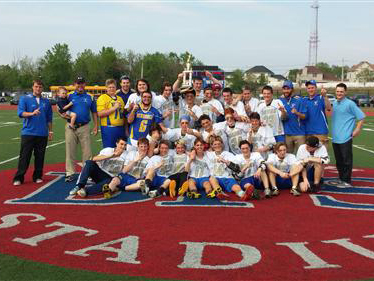 After more than a decade operating as a club team, the Kenmore DevilDogs lacrosse program is now officially a Ken-Ton School District sport.
The program has operated as a club sport for 13 seasons, steadily growing and achieving tremendous success against other Western New York high schools in the Independent Lacrosse Conference. The DevilDogs secured a playoff spot each of its 13 seasons and won the ILC Championship in 2015. Now, as the newest addition to the Ken-Ton School District's athletics program, the team will compete in Section VI.
"The student athletes, parents and coaches of Kenmore Lacrosse are very appreciative for the support we have received from the superintendent, the school board and the athletic director," said head coach Alex Perry, a social studies teacher at Kenmore East. "We are very excited to play in Section VI after 13 years of competition at the WNY club level. It is a tribute to the hundreds of young men and women and their families who have had to pay their own way to play lacrosse for Kenmore over the past 13 years."
"I am pleased and happy for the pioneers who worked so hard to accomplish the goal of Varsity Boys Lacrosse," said Athletic Director Brett Banker. "This is a goal some individuals worked tirelessly toward for more than a decade."
The program, with athletes from Kenmore East High School and Kenmore West High School, was created in 2006 by Edison Elementary School physical education teacher Kyle Horvatis. Since 2010, the team has been coached by Perry with help from assistant coach Matthew Miller, also a social studies teacher. The program has grown fast with the addition of a junior varsity program in 2012 and a modified program earlier this year.
For more information on the program, visit www.kenmorelacrosse.com.
Click here for information on Winter Lacrosse
Click here for information on the "SantaLax" Tournament, which takes place Dec. 15
Connect With Ken-Ton Schools