Kenmore-Town of Tonawanda UFSD
Providing our students with the supports, tools, and diverse opportunities needed to meet the challenges of an ever-changing world
Superintendent & Administration
Return to Headlines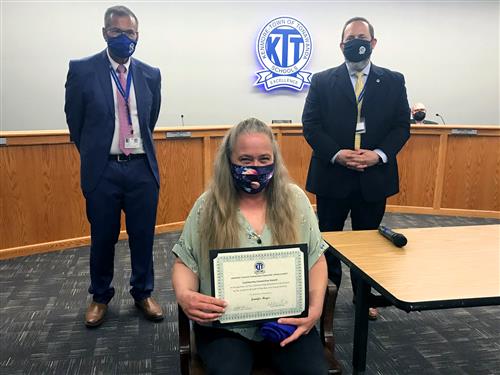 Board President Matthew Chimera, Jennifer Hayes, and Superintendent Sabatino Cimato.
Jennifer Hayes is a very active Ken-Ton School District parent and volunteer, who was independently nominated by two different individuals in our community. Jennifer's two children have been enrolled at different schools including Holmes Elementary, Hoover Middle, and Kenmore West, and she has been actively involved in each of those schools. Although her two children have long since moved up from Holmes Elementary, she continues to play a very active role as a volunteer at the school, and runs their PBIS rewards cart. She also volunteers at athletic organizations for special needs students including CAPS, which stands for Challenged Athletes Participation in Sports, Adaptive Cheerleading, and Special Olympics. Jennifer's daughter was a member of the Kenmore West High School Class of 2020. At the height of the pandemic in the spring, with the Class of 2020 missing out on so much of their senior year, Jennifer spearheaded the "Adopt a Senior" Program for Ken-Ton students to provide special recognition for our graduating seniors. She also set up a food pantry outside her home, inviting anyone in the community to take what they needed. In the words of one of our staff members: "Jennifer is an amazing mom, daughter, friend and volunteer." And in the words of another parent: "She is the finest of our community and does everything with a smile. We are lucky to have her as a member of our Ken-Tom family."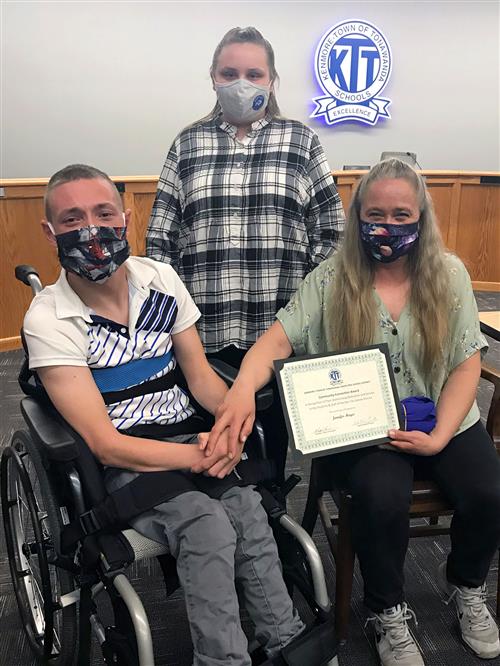 Jennifer Hayes with her children.
Connect With Ken-Ton Schools