Kenmore West High School
Providing our students with the supports, tools, and diverse opportunities needed to meet the challenges of an ever-changing world
Return to Headlines
Kenmore West Team Qualifies for NYS Science Olympiad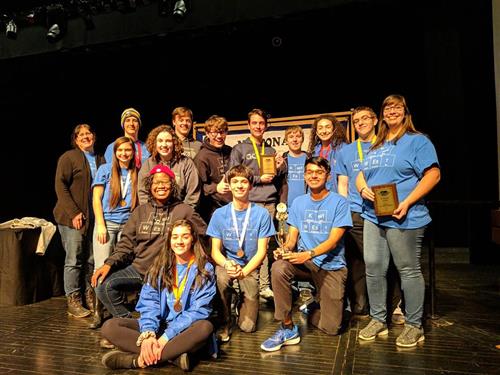 The Kenmore West High School Science Olympiad team performed exceptionally in the regional competition at Buffalo State College on Friday, Feb. 1, earning a place at the New York State competition for the first time in school history.
The team is comprised of students Krish Patel, Lauren Gradzewicz, Ashley White, Mark Bogacki, Tyler Buchanan, Alanna Krug, Nick Thompson, Gerald Rott III, Louis Taravella, Angela Westfall, Olivia Guarino, Alexandra Padillo, Justin Kwoka, Russell Close, and Marissa Leone and is coached by science teacher Jennifer Gazdovich with assistance from district instructional science coach Lisa Davidson and science teachers Erica Schlifke and Chelsea Grosskopf. Special thanks also went out to Kenmore West head custodian Gary Mannix who made sure the team was able to access the building despite schools being closed that day in the aftermath of the Jan. 30-31 winter storm in order to obtain and complete projects needed for the competition.
Science Olympiad is a team competition in which students compete in different events related to earth science, biology, chemistry, physics, and engineering. Medals are given to the top competitors in each individual event; the Kenmore West team earned medals in each competition it competed in on Feb. 1.
Kenmore West was one of only five school districts in the region to advance to the New York State competition, which will take place in Syracuse in March.
Connect With Ken-Ton Schools