Kenmore West High School
Providing our students with the supports, tools, and diverse opportunities needed to meet the challenges of an ever-changing world
Return to Headlines
Ken-West Foods 1 Class Donates 25 Squash Pies for Thanksgiving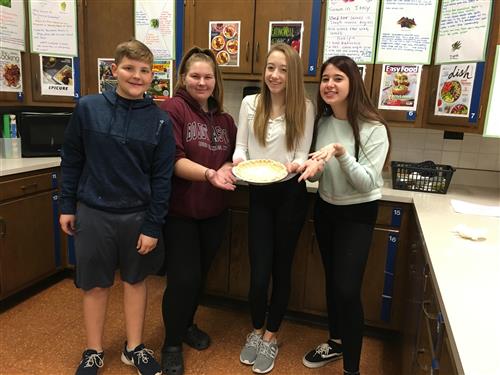 Kenmore West High School Foods 1 students Ryan McLaughlin, Rachel Gecewicz, Alyssa Welnowski, and Grace Watters with their completed pie crust.
When Carol Glor, Family & Consumer Science teacher at Kenmore West High School, heard the Ken-Ton Meals on Wheels needed upwards of 100 pies to provide a Thanksgiving dinner for approximately 500 people in the Ken-Ton community, she wanted to help. So did her students, who wanted to express their appreciation for the community by contributing to this endeavor.
So they got to work. With Glor's guidance, the students in her Foods 1 class began making pies to donate to the Ken-Ton Meals on Wheels in the days leading up to Thanksgiving.
Instead of pumpkin purée, the students used fresh squash instead. These had been donated to the program by a Western New York farm, so Glor had a lot of it on hand. Varieties of squash are not only an alternative to traditional pumpkin purée for pie making - many prefer squash because of its freshness, texture, flavor, and sweetness. The students perfected the art of processing fresh squash, making scratch pie crust, and adding the "pumpkiny" filling.
Each year, the Ken-Ton Meals on Wheels provides a Thanksgiving dinner for hundreds of people in the Ken-Ton community, either in-person at the Parkside Village Community Building on Thanksgiving Day or delivered to their homes by volunteers. The Meals on Wheels depends upon donated pies from the community, and organizers reached out to the Ken-Ton School District for help.
Glor, a self-described "frugal" FACS teacher, jumped at the opportunity to make use of the squash windfall, and students were excited to put their skills, knowledge, and experience to the test and contribute toward this community event.
In the end, Glor and her students donated a total of 25 delicious pies to the Ken-Ton Meals on Wheels, alongside another 23 pies donated by administrators and staff from the Ken-Ton School District administrative offices.
Connect With Ken-Ton Schools