Kenmore West High School
Providing our students with the supports, tools, and diverse opportunities needed to meet the challenges of an ever-changing world
Return to Headlines
Kenmore West High School Honors 10 College-Bound Athletes at Signing Ceremony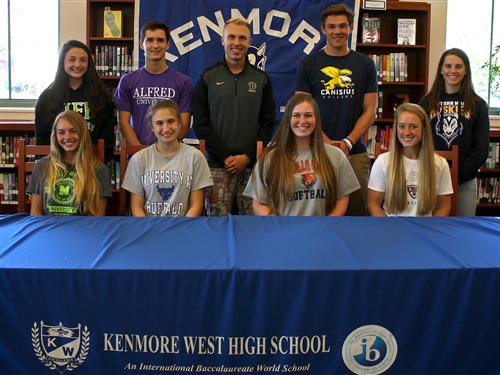 Front row, from left, Frankie Mercado, Christina Wende, Sydney McIntosh, and Abby Borkowski. Back row, from left, Autumn Locicero, Keenan Kasperek, Alex Fusani, Andrew Fron and Jenna House. Missing from photo: Josie Michaels.
A total of 10 outstanding Kenmore West High School athletes were honored on May 16 during a signing ceremony after signing their intent to compete at the collegiate level. Three of the students will be competing at NCAA Division I schools, two at NCAA Division II schools, and four at NCAA Division III schools.
The students were:
Abby Borkowski: St. Bonaventure (softball; Division I)

Andrew Fron: Canisius (baseball; Division I)

Alex Fusani: Brockport (soccer; Division II)

Jenna House: Southern Maine (ice hockey; Division III)

Keenan Kasperek: Alfred State (soccer; Division III)

Autumn Locicero: Life University (rugby)

Frankie Mercado: Mercyhurst (cross country; Division II)

Sydney McIntosh: Buffalo State (softball; Division III)

Josie Michaels: Ithaca (swimming and diving; Division III)

Christina Wende: UB (track; Division I)
The Kenmore West High School library was packed on May 16 with friends, teammates, family members, coaches, staff, and administrators who attended the signing ceremony to show their support for these exceptional athletes.
By going on to compete at the college level, these athletes have achieved a distinction only a fraction of high school athletes have earned in their respective sports:
Softball: 5.1 percent

Boys Soccer: 5.7 percent

Girls Track: 5.8 percent

Baseball: 6.9 percent

Girls Cross Country: 7.3 percent

Girls Swimming: 7.4 percent

Girls Ice Hockey: 23.4 percent
Even fewer go on to compete at Division I schools, an achievement earned by Abby (softball: 1.6 percent), Adam (baseball: 2.1 percent) and Christina (girls track: 2.7 percent).
Additionally, a total of eight outstanding student athletes who will go on to compete in rugby at the collegiate level will be honored during a signing ceremony on May 24.
Connect With Ken-Ton Schools