Kenmore-Town of Tonawanda UFSD
Providing our students with the supports, tools, and diverse opportunities needed to meet the challenges of an ever-changing world
Character Education & Bullying Prevention
Character Education & Bullying Prevention
Return to Headlines
Kenmore East Student Wins Local, Regional & Statewide Peace Essay Contest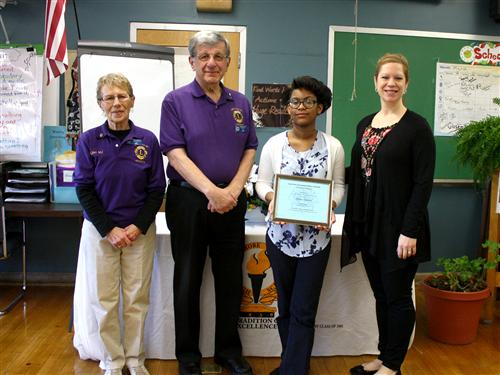 Kenmore Lions Club President M.J. Silliman; Lion Joe Argenio, contest chairperson; Tiffany Simpson; and Alicia Schwock, one of Tiffany's teachers
Tiffany Simpson, an eighth-grade student at Kenmore East High School, recently won high honors as part of the Lions Club International Peace Essay Contest. Tiffany won first place at the local, regional and statewide level and her essay is now a contender in the international contest as well.
The Lions Club International Peace Essay Contest provides visually impaired students the opportunity to express their feelings on peace, and the theme for the 2017-18 school year was "The Future of Peace." Students ages 11 to 13 were eligible to submit a 500-word essay. Thousands of essays are submitted for consideration to Lions Club chapters throughout the world, and the grand prize winner of the international contest receives a $5,000 award.
The theme of Tiffany's essay was fostering peace by treating each other fairly, not judging people, not bullying others, and appreciating the differences in people.
Her essay was awarded first place by the local chapter, the Kenmore Lions Club, and entered into the regional contest sponsored by the Western New York Lions Club district which encompasses Niagara, Erie, Chautauqua and Cattaraugus County. After she was awarded first place in the regional contest, Tiffany's essay was entered into the statewide contest sponsored by the Lions Club International MD20 District which includes all of New York State and Bermuda. Tiffany was in attendance at a special awards banquet where she was honored for her achievement at the local and regional level when she learned that she had won the statewide contest as well, and her essay has now been entered into the international contest.
Tiffany was honored at a recent ceremony at Kenmore East High School by Principal Patrick Heyden, Superintendent Stephen Bovino, Kenmore Lions Club President M.J. Silliman, local contest chairperson Joe Argenio, and Alicia Schwock, Ken-Ton School District teacher of the visually impaired, who helps her students enter the contest each year. Tiffany was also honored at a recent Kenmore Lions Club luncheon along with the chapter's second-place winner Alexis Lattimore and third-place winner Isabella Storm, both Hoover Middle School students, as well as their families and Schwock.
This wasn't the first time Tiffany won local and regional honors as part of the Lions Club Essay Contest. As a sixth-grade student at Hoover Middle School, Tiffany wrote an essay which was awarded first place by the Kenmore Lions Club and by the Western New York district during the 2015-16 school year.
Connect With Ken-Ton Schools