Kenmore East High School
Providing our students with the supports, tools, and diverse opportunities needed to meet the challenges of an ever-changing world
Return to Headlines
Kenmore East Wins Model UN Regional Competition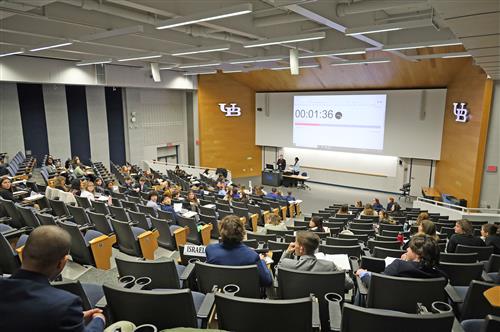 The Kenmore East's Model United Nations team are winners once again! The team, consisting of 14 students, won the region's largest Model UN Competition on Tuesday, earning the competition's top honor of Best Overall Delegation. The competition was put on by the International Institute of Buffalo in cooperation with The University at Buffalo and the International Affairs Departments of local colleges and universities.
The Model UN General Assembly is an annual competition. Students act as diplomats for the day, and address pressing issues in international relations. They are split up and work in small teams in different rooms, each of which represents a different committee. Schools are rated based on their contributions to the discussions as they debate and amend resolutions, tackling some of the most important issues facing the world today.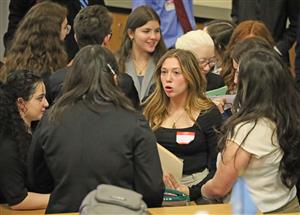 In addition to winning the competition's top prize, six Kenmore East team members won their respective committees as they represented the country of Belgium: Skylar Hotchkiss and Kathleen Tribble took first place in the Social, Cultural, & Humanitarian Committee; Gloria Hodge and Alannah Smith took first place in the Ad Hoc Political and Security Committee; and Alice Budzich and Marian Al-Obaidi took first place in the Special Political Committee.
"We should be very proud of these students for a very impressive accomplishment," Knab said. "The Kenmore East Model UN team has won this competition many times before and it's safe to say our team holds a unique place among the region's high schools."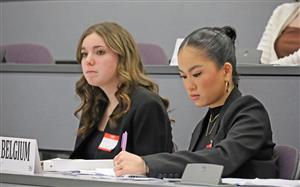 The winning Kenmore East team also included students Matt Cudzilo, Mariam Flayh, Andrionita Jakupi, Alexandra Lipinski, Emily Mical, Tessa Mihelbergel, Erika Patkalitsky, and John Ramsey. Mr. Christopher Knab and school Principal Trevor Brown serve as the team's co-advisors.
Kenmore West, representing the nation of Serbia, also had a team in Tuesday's competition. The team includes students Shona Boehmer, Charlotte Brach, William Dong, Michael Hark, Dylan Hein, Gabriella Pilat, Carlie Smith, Viviana Stehlin, Tanja Tuco, and Augie Williams. Ms. Holly Georgic-Schmitt serves as the team's advisor.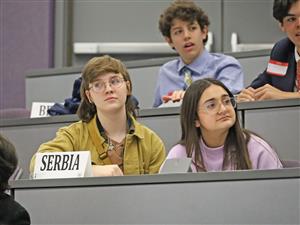 "They were all doing the club for the first time since this is the first time Kenmore West has done Model UN since 2019. They worked hard preparing and doing research," Georgic-Schmitt said. "They all did a great job representing our school and most said they want to do the club again next year with a goal of winning an award."
Tuesday's competition is the largest Model UN competition in the region, involving 550 students from over 35 schools in Western New York and Northern Pennsylvania.
Connect With Ken-Ton Schools