Kenmore East High School
Providing our students with the supports, tools, and diverse opportunities needed to meet the challenges of an ever-changing world
Return to Headlines
World-Famous Blues Artist Vanessa Collier Visits Kenmore East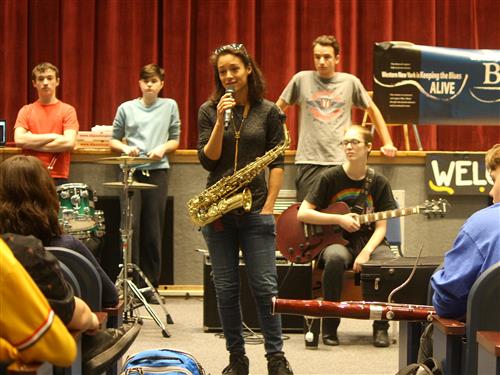 World-famous blues saxophonist, vocalist and songwriter Vanessa Collier told her story and inspired students in Grades 8-12 during a recent visit to Kenmore East High School.
Band Director Phil Aguglia welcomed Collier on Monday, Jan. 14 with the support of the Western New York Blues Society. During her visit, Collier spoke to the students about the blues, succeeding in the music industry, and finding and following their passions. She also discussed her own background and the artistic process behind her critically acclaimed music which she has performed on stages across the globe.
"I basically use every instrument that I can. I'll pick up a guitar and start diddling and find a little idea that will kind of blossom into a song, hopefully a good one," Collier said in telling the story behind her hit "Sweatin' Like a Pig, Singin' Like an Angel," which is on her newest album, "Honey Up." Next came an impromptu performance of the song with the help of the rhythm section of the Kenmore East Jazz Ensemble.
"We were very excited to have Vanessa visit," Aguglia said. "She's an amazing musician and a young, positive influence for our kids."
Collier grew up in Maryland and earned dual degrees in performance and music production and engineering at Berklee College of Music in Boston, one of the most prestigious music education institutions in the U.S. She began her career touring the country with preeminent blues artist Joe Louis Walker before striking out on her own. Since then, Collier has toured across the world and won numerous accolades. She has released three albums including her most recent album "Honey Up," which spent nine weeks atop the Billboard Blues Album Charts Top 15.
The Western New York Blues Society is a non-profit organization dedicated to preserving and supporting the blues genre, and its educational programs reach thousands of students throughout Western New York.
Watch as Collier joins the rhythm section of the Kenmore East Jazz Ensemble for an impromptu performance of her hit "Sweatin' Like a Pig, Singin' Like an Angel":
Watch as students in the audience join in with Collier during an improvisational exercise with Count Basie's classic "Alright, Okay You Win":
Big Year for Kenmore East Band
The 2017-18 school year was another big year for the Kenmore East band program, and the 2018-19 school year is shaping out to be just as big with several upcoming events:
Many Kenmore East musicians will take to the stage for the Kenmore East Talent Show at 7 p.m. on Friday, January 18.
The Concert Band will perform a special concert at Edison Elementary at 9:30 a.m. on Friday, Feb. 1.
On Saturday, February 2, no fewer than five jazz groups will perform at the Music is Art Winter Jam at Asbury Hall (6:30 p.m. concert time with clinics and jam session set to take place from 1 to 5 p.m.).
On Monday, February 4, a Kenmore East jazz combo will perform at Kleinhan's Music Hall for a music symposium for artists and administrators. Kenmore East senior AJ Neubert has been invited to sit on the panel as a student contributor for this symposium. Kenmore East is the only school in the region invited to be a part of this event.
Wednesday, February 6 will feature the East Side Bands Concert at Kenmore East, including the Franklin Middle and Kenmore East ensembles. The concert begins at 7 p.m.
Finally, on Sunday, February 10, Kenmore East jazz and vocal jazz groups will perform at the Hard Rock Café at 12 p.m.
Aguglia Invited as Guest Speaker
Band Director Phil Aguglia, meanwhile, has been invited to present to attendees at the International Conductors Guild Conference in New York City, to music education students at Louisiana State University, and to attendees at the International Music Teacher Educators Conference.
Connect With Ken-Ton Schools