Kenmore East High School
Providing our students with the supports, tools, and diverse opportunities needed to meet the challenges of an ever-changing world
Return to Headlines
Kenmore East Students Perform at Disney's Candlelight Processional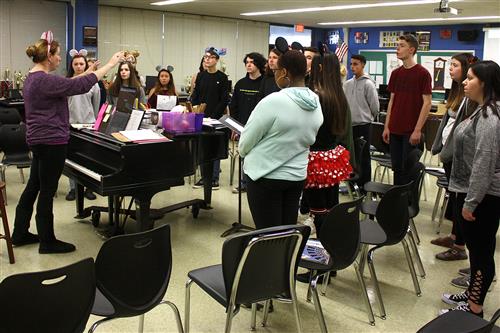 Kenmore East High School students led by choral director Jill Neuhaus practice one final time before departing for Orlando, Fl. on Dec. 6 to perform as part of Disney's Candlelight Processional.
On Thursday, December 6, members of the Kenmore East High School choirs led by choral director Jill Neuhaus traveled to Orlando, Fl. in order to perform as part of the popular Candlelight Processional at Walt Disney World.
Part of the "Holidays Around the World" celebration at Epcot, the Candlelight Processional is a spectacular destination each holiday season, and the quintessential Disney holiday experience.
A lineup of celebrity narrators such as Whoopi Goldperg, Edward James Olmos, Meredith Viera, and Cal Ripken Jr. tell the story of Christmas with the help of an orchestra and mass choir. It takes place three times each evening beginning in late November through the end of December and typically draws thousands of people.
In March, after auditioning for the highly selective event, Neuhaus and her students were excited to learn that they had once again been selected to perform as part of the Candlelight Processional Choir. On Friday, December 7, they performed with celebrity narrator Whoopi Goldberg, a 55-piece orchestra, Disney's Voices of Liberty, and choirs from all over the country, for the 60th anniversary of the Candlelight Processional.
"It will be overwhelming to sing with so many people around me, but I can't wait to hear everyone's voices together," said sophomore Esther MacDonald. It was her first time performing at this monumental event.
The Candlelight Processional is Disney Parks's longest-held and most beloved holiday traditions. The show premiered Disneyland in 1958. It also ran at Magic Kingdom for 22 years before moving to Epcot in 1994.
To apply, Kenmore East students had to record Disney's version of "O Holy Night" last year and submit it to a committee. Once accepted, the ensemble prepared to sing 14 songs from memory for the production.
"Overall, it's one of my favorite things from high school that I've done," said senior Alyssa Germano, who also performed as part of the 2016 Candlelight Processional. "As a senior, you look back on the things you've done and treasure everything that you're doing for the last time. It's bittersweet but I'm really looking forward to it."
You can view the December 7 event here:
Connect With Ken-Ton Schools