Kenmore-Town of Tonawanda UFSD
Providing our students with the supports, tools, and diverse opportunities needed to meet the challenges of an ever-changing world
Return to Headlines
KE 2022 Grad Performs in Austria with Honors Performance Series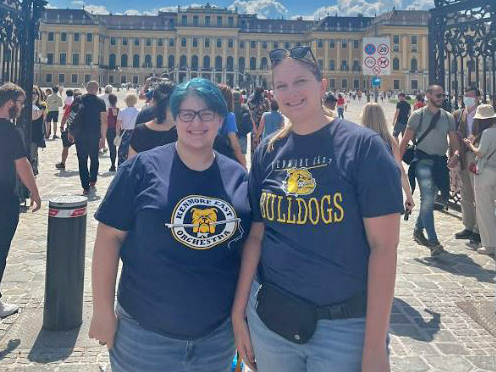 This summer, Kenmore East was once again represented on an international stage when the Honors Performance Series Orchestra traveled to and performed in Vienna, Austria. Katie Lawson, a 2022 graduate, was accepted as a cellist after submitting a virtual audition and performance resume.
The Honors Performance Series Orchestra is an audition-only performance organization which holds concerts in some of the most famous performance spaces. The Orchestra accepts around 50-60 students from all over the world. This year's Orchestra consisted of about eight cellists including Lawson, who received the honor of second chair following her initial audition.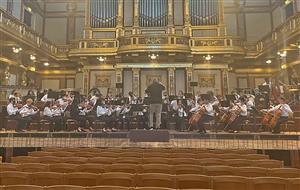 "I was so incredibly happy for Katie," Kenmore East orchestra teacher Laura Jay said. "It was such an honor to watch her perform with such an amazing orchestra in such a beautiful city."
As part of the program, Lawson visited places like Salzburg (the birthplace of Mozart) and the Schönbrunn palace, and was able to work with acclaimed conductor Jeffrey Grogan. Additionally, the entire Orchestra performed in Großer Saal (Great Hall) at the Musikverein concert hall in Vienna.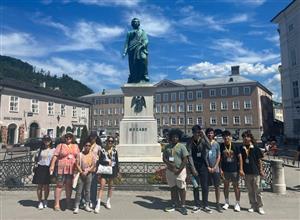 "It was a stunning concert," Jay said about the performance in the Musikverein. "The hall was so old and so beautiful. The music chosen by the conductor was challenging but perfect for the hall and the ensemble. The orchestra sounded incredible and I was just so proud of the students and their hard work."
Kenmore East's involvement with the Orchestra is nothing new. In 2019, Madison Manzella earned a spot as a flutist and traveled to Sydney, Australia. The series will go back to Sydney in 2023 and Jay is hoping another student is able to enjoy this incredible opportunity.
"A big reason Katie auditioned for this program is because of Madison's experience," Jay said. "I hope that more students from Ken-Ton consider this program as it truly is a once-in-a-lifetime opportunity for students to work with incredible conductors, meet like-minded students like themselves, and travel the world."
Connect With Ken-Ton Schools