Holmes Elementary
Providing our students with the supports, tools, and diverse opportunities needed to meet the challenges of an ever-changing world
Return to Headlines
Encouraging and Providing Opportunities for the Visually Impaired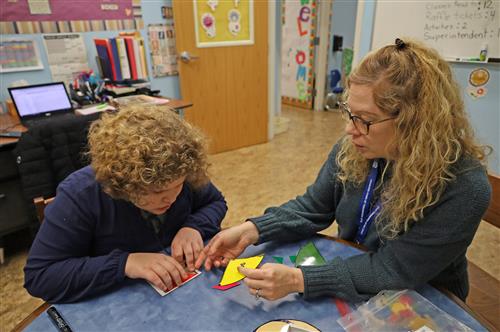 By: Jenna Stockman
If you walk into Alicia Schwock's classroom at Edison Elementary, you'll often see her working with fourth-grader Madison McCombs. Madison is one of the many visually impaired students in the Ken-Ton School District, but thanks to teachers like Alicia, she's continuing to thrive and grow.
"When I was an undergrad, I had no idea this field even existed," said Schwock, one of the district's three Teachers of the Visually Impaired. "I literally learn something new from my students every day and love watching them flourish."
Schwock, along with teachers Sheila Ewing and April Kress, and visual aide Deborah Fose, make up Ken-Ton's Visually Impaired Department. They cover all 10 district buildings and work hard to educate and bring opportunities to the 60 students they serve. Every student has different needs depending on how their brain is interpreting information. Some students' eyes don't work together, while others, like Madison, are legally blind.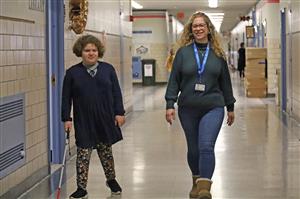 "We always try to make the curriculum super accessible," Schwock said. "That involves a lot of hands-on learning because they don't learn the way other students typically do."
Schwock learned about the importance of teaching in a "hands-on way" during her three years at the Florida School for the Deaf and Blind in St. Augustine. She recalls her students taking a field trip to an aquarium where they were able to use nets to catch cannonball jellyfish.
"The experience was amazing because they were able to physically touch and feel them," Schwock said. "We were able to give kids something you couldn't do with a textbook. We were helping them experience the world and the things that others may sometimes take for granted."
That experience has helped Schwock develop different ways to teach her students. For example, she and the other teachers use different sized blocks to explain number values (10, 100, etc.) and will sometimes take them outside so they can walk the length of a football field to understand various lengths of measurement. She'll also wear a blindfold in her house and try to accomplish everyday tasks, learning from her experience and then finding ways to teach her students how to do those things.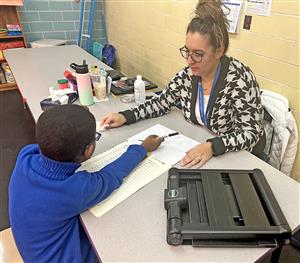 When it comes to reading, the difference between Braille and print is extremely complicated and takes a lot of learning.
"It's a lot more difficult for a Braille learner to learn how to read than the average student. Sometimes people think a visually impaired child is just educationally delayed, but that's not the case," Schwock said. "Yes, they're typically a grade level or more behind, but that's because they're learning so much more information than a print reader."
That's why Schwock is continually working to build a community of understanding when it comes to the Braille language. She's taught lessons to local Girl Scout troops in order to spread awareness and has also encouraged undergraduate teachers to pursue the field. She's also teaching her own students self-advocacy by giving them opportunities within their own school.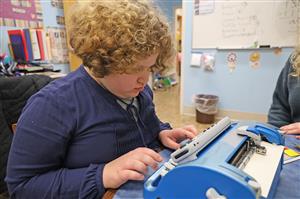 "Madison is in her second year of a reading contest where she is attempting to read as many minutes as she can over a certain period of time. In the past, she would read for principals and other teachers and this year we stepped it up a notch and are reading to students," Schwock said. "She has gone to different classrooms and has shown them her way of reading. The younger kids think it's so cool to see her read using her fingers rather than her eyes. She's become very confident with what we call her 'superpower.'"
In a constantly evolving field, Schwock and the rest of the department are in awe of what their students continue to achieve. Whether it be the lessons in the classroom or the new technology that continues to assist them in everyday life, they've seen their students overcome hurdles and thrive in the real world.
"Many years ago, I had a student who transferred into the district as a middle schooler and was losing his vision. He was so frustrated," Schwock recalled. "I told him that he could do anything and all we had to do was find a different way to do it. He wound up continuing on and recently graduated from the University at Buffalo. To see him do that was so beyond rewarding."
For resources and more information about our visually impaired department, you can visit their webpage here.
Connect With Ken-Ton Schools