Franklin Elementary
Providing our students with the supports, tools, and diverse opportunities needed to meet the challenges of an ever-changing world
Return to Headlines
EPIC to Present Parent Workshop Series
EPIC (Every Person Influences Children) in collaboration with Lindbergh Elementary School and the Lindbergh Elementary PTA will host a parent workshop series beginning on Wednesday, Sept. 26 and continuing once a month on scheduled dates through Feb. 27, from 6:30 to 7:30 p.m. Dinner (pizza, carrots and water) will be served from 6 to 6:30 p.m. and childcare will be provided, and all Ken-Ton School District parents are welcome to attend.
Please return the following form to Lindbergh Elementary School, 184 Irving Terrace, Kenmore, NY 14223 or email it to amaccagnano@ktufsd.org:
Workshops will provide parents with the opportunity to meet other parents, share parenting tips/tricks, and learn about a particular topic. Workshops will take place at Lindbergh Elementary (184 Irving Terrace, Kenmore) in the library. Please enter through Door #7 (cafeteria door).
The dates and topics are as follows:
Sept. 26: Parenting Style & Decision Making (several strategies for decision making and problem solving)

Oct. 24: Structure & Limits: Preventing and Managing Problem Behaviors (minimizing problem behavior and techniques for teaching responsible behavior)

Nov. 28: Guiding Your Child's Behavior (examining the things that motivate children's behaviors, both negative and positive)

Jan. 23: Coping with Daily Stress & Frustration (identifying the causes of stress in daily life and positive ways to cope with frustration)

Feb. 27: Developing Respect & Caring in Young Children (easy-to-use ideas for developing a relationship of mutual respect)
The EPIC parent workshop series is supported by the Peter C. Cornell Trust, Northwest Bank, and BlueCross BlueShield. Dinner is provided by the PTA with childcare provided by Lindbergh Elementary.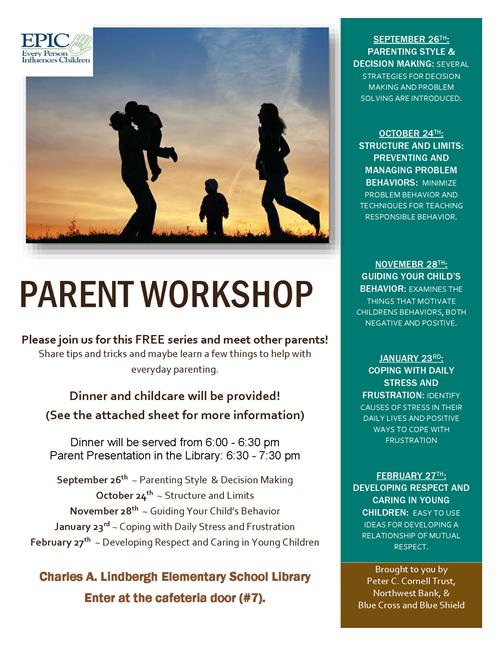 Connect With Ken-Ton Schools