Franklin Elementary
Providing our students with the supports, tools, and diverse opportunities needed to meet the challenges of an ever-changing world
Return to Headlines
Kenmore East/West Students Lead 'Purple Pinkie Day' Efforts to Support Campaign Against Polio
There was a time when hundreds of thousands of children each year died or faced life-changing disabilities resulting from the polio virus.
Led by Rotary International, the World Health Organization and UNICEF, a world-wide effort spanning multiple decades to eradicate polio has come so close to making this terrible disease a thing of the past.
That effort recently received a boost thanks to a long-standing initiative in the Ken-Ton School District spearheaded by Rotary International's local chapter, the Kenmore Rotary Club.
Students from Kenmore East High School and Kenmore West High School visited six elementary and middle schools over a two-day span and set up stations where they painted children's pinkie fingers purple as part of "Purple Pinkie Day." As part of this event, children donated money to support the effort to eradicate polio and had their fingers painted as a show of solidarity and to raise awareness about the effort.
Leading the way on Purple Pinkie Day were students from the Kenmore West Challenge/Interact Club and the Kenmore East Interact Club, under the direction of advisors Darcy France and Kyle Witul respectively and student leaders Frankie Mercado, Jack Stoerr, Emily Caruana, Sarah Burhans, Elijah Blumberg, Eita Nanda and many others. They held Purple Pinkie Day events at the following locations:
At Hoover Middle School, coordinated by teacher Amy Stoerr;

At Franklin Middle School, coordinated by Principal Chris Ginestre;

At Hoover Elementary School, coordinated by teacher Laura McLean;

At Franklin Elementary School, coordinated by teacher Lynne Akin;

At Edison Elementary School, coordinated by social worker Ceil Bauer;

At Lindbergh Elementary School, coordinated by teacher aide Towana Wells.
"My fellow Kenmore Rotary Club members and I are so thankful for all of the dedicated Kenmore East and Kenmore West 'painters' who volunteered to perform this fundraiser," said Lawrence Cook of the Kenmore Rotary. "Also, the Ken Ton administration and staff proved to be fantastic partners with us once again. We couldn't have done it without their cooperation. And a huge thanks goes to the hundreds of generous students and their families who have really made a difference."
Members of the Kenmore Rotary Club were on hand at each of the school to provide assistance and representing their chapter.
A total of $1,755 was raised at six schools. With matching programs through the Kenmore Rotary Club and the Bill and Melinda Gates Foundation, this will result in a total of $10,500 for the effort to eradicate polio. This money is used to purchase vaccinations for people who might otherwise contract the virus, and potentially spread it to others. In this way, only two countries – Afghanistan and Pakistan – still report new cases of polio.
"Last year there were only 22 new cases of Polio reported and so far this year there has only been one, and that's worldwide," Coon said. "The disease is very contagious though, so we need to be diligent."
A purple pinkie is an international symbol for those administrating polio vaccines to keep children from being immunized too frequently. As soon as a child under 5 years of age receives the drops of the oral vaccine, their pinkie is coated with indelible purple dye. In this way, health care workers giving the vaccine can recognize the recent administration of the polio preventative drug.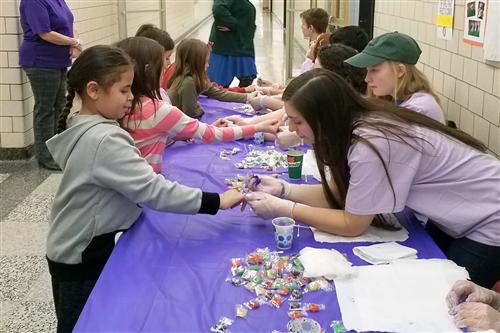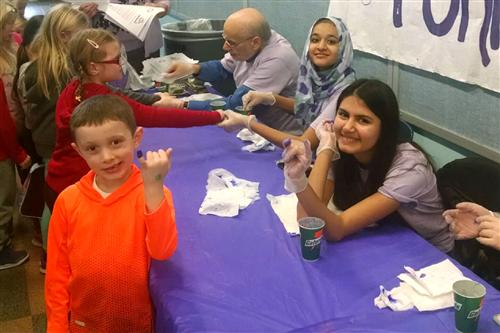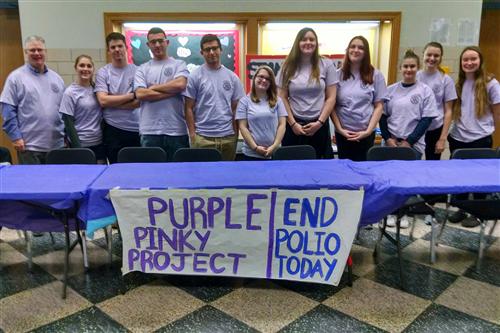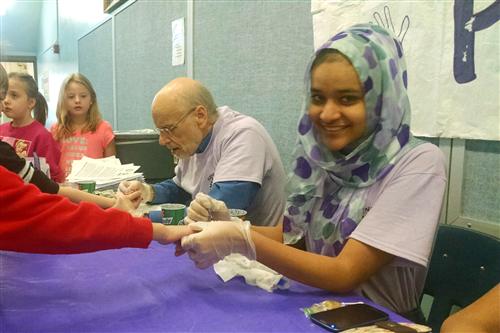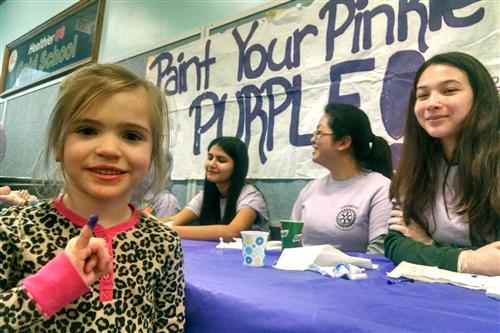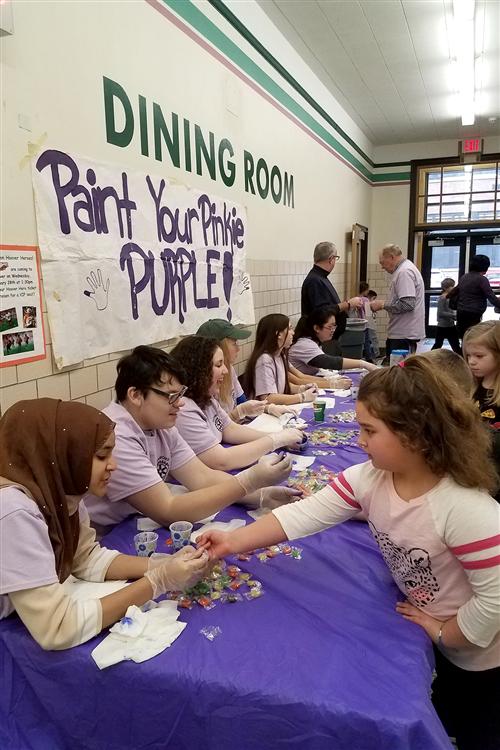 Connect With Ken-Ton Schools