Lindbergh Elementary
Providing our students with the supports, tools, and diverse opportunities needed to meet the challenges of an ever-changing world
Return to Headlines
Lindbergh Students Rewarded for Good Cafeteria Behavior With Fine Dining Experience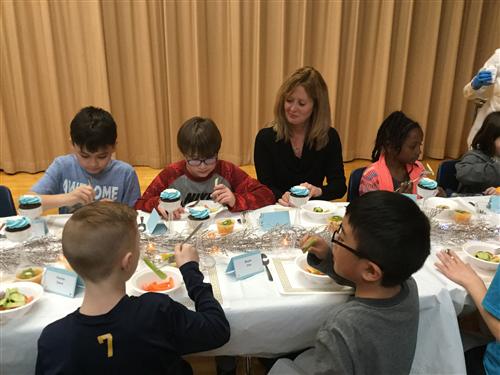 As part of the Lindbergh's Positive Behavioral Interventions & Supports (PBIS) program which promotes character education and a positive school environment, one class won a special fine dining luncheon for demonstrating the most respect, manners, and positive behaviors in the cafeteria over a two-week period.
Mrs. Harris' third-grade class won this fantastic reward. Students received a special invitation for this event, which included a response card that the students needed to fill out with their lunch choice.
The students learned about proper etiquette that one would demonstrate in a fine dining restaurant, such as placing the napkin on one's lap and what to do when you want the waiter or waitress' attention.
When students entered the Jordyn D'Alimonte Performing Arts Center stage the day of the luncheon, they found linen tablecloths, lighted table decorations, name place cards, placemats, and dinner music.
First, students were excited to find their place cards and sit at the tables. The students enjoyed their first course of carrots, celery, and cucumbers. Then they enjoyed their entrée of stuffed crust pizza with a fruit cup and choice of milk. To end the experience, students were treated to a special dessert, which all students were excited to partake in.
Some of the comments from students included "This is the best," and, "This is even better than a restaurant." Special thanks goes out to Kara Pezzino and Peggy Becker, Lindbergh's cafeteria monitors, who planned and organized this special event.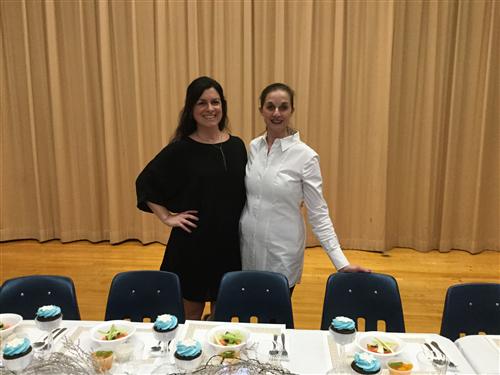 Connect With Ken-Ton Schools