Kenmore-Town of Tonawanda UFSD
Providing our students with the supports, tools, and diverse opportunities needed to meet the challenges of an ever-changing world
Return to Headlines
For 7th Year in a Row, Ken-Ton Designated as 'Best Community for Music Ed'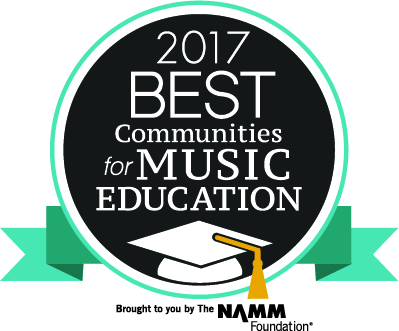 For the seventh year in a row, the Kenmore-Town of Tonawanda UFSD has been among a tiny fraction of school districts nationwide to receive the Best Communities for Music Education designation from the NAMM (National Association of Music Merchants) Foundation in recognition of its outstanding K-12 music programs and commitment to music education.
This is the 18th year the NAMM Foundation has singled out school districts across the U.S. for the efforts of teachers, administrators, parents, students and community leaders to make music education part of the core curriculum. Only 527 districts, representing only 4 percent of districts nationwide, earned this prestigious distinction. Ken-Ton was among only a handful of school districts in Erie County and Western New York to earn this designation.
According to the NAMM Foundation, research into music education continues to demonstrate educational/cognitive and social skill benefits for children who make music. Studies have found a link between participation in music programs and life-long academic success, including higher high school graduation rates and college attendance. Studies have also shown that early exposure to music education improves how the brain processes and assimilates sounds, a trait that lasts well into adulthood.
Each year, the NAMM Foundation surveys school districts on funding, graduation requirements, participation, instruction time, facilities, support for the music program, and community music programs. The findings are verified with school officials and reviewed by the Center for Public Partnerships and Research, an affiliate of the University of Kansas.
In the Kenmore-Town of Tonawanda UFSD, with approximately 30 full-time music teachers, music education begins in kindergarten for every student, and vocal and instrumental education begins in Grade 4. Students can take part in band, orchestra and chorus ensembles at the elementary, middle and high school level.
There are a wide variety of different band, jazz, orchestra and vocal ensembles at Kenmore East High School and Kenmore West High School of varying sizes, compositions and skill levels, as well as many music electives students can take advantage of, including Music in Our Lives, Music Theory I and II, Advanced Placement (AP) Music, and International Baccalaureate (IB) Music. Many music teachers are active in the Western New York music community, performing as part of many different top-tier groups. Music teachers routinely bring their student ensembles out into the community, performing at a variety of venues all across Western New York.
For more information on the Ken-Ton music program, visit www.ktufsd.org/music.
The NAMM Foundation is a non-profit philanthropic organization supported in part by the National Association of Music Merchants, a trade association representing the music products industry, and its nearly 9,200 members. The NAMM Foundation advances active participation in music making across the lifespan by supporting scientific research, philanthropic giving and public service programs. For more information, visit www.nammfoundation.org.
Connect With Ken-Ton Schools