Kenmore-Town of Tonawanda UFSD
Providing our students with the supports, tools, and diverse opportunities needed to meet the challenges of an ever-changing world
Return to Headlines
District to Offer Virtual Youth Mental Health First Aid Training
***UPDATE***
There are no more spots available for the Jan. 22 Youth Mental Health First Aid Training. The Ken-Ton UFSD Office of School Culture and Compeer are in the process of exploring additional opportunities and we will share any details as soon as they are available. Thank you!
---
​The Ken-Ton School District in partnership with Compeer is offering everyone in the community the opportunity to take part in a virtual Youth Mental Health First Aid Training from 9 a.m. to 1:30 p.m. on Saturday, Jan. 22 via Zoom. Two hours of pre-work is required prior to the training and participants will receive a three-year certificate upon completion.
This training will teach you how to identify, understand, and respond to signs of mental illness and substance use disorders in youth. This live online training gives adults who engage with youth the skills they need to reach out and provide inital support to youth ages 6-18 years old, who may be developing a mental health or substance use problem and help connect them to the appropriate care.
What it covers:
Common signs and symptoms of mental illnesses in this age group

Common signs and symptoms of substance use

How to interact with a child or adolescent in crisis

How to connect the person with help

Expanded content on trauma, addiction, and self-care

Impact of social media and bullying
You can register for the training here:
https://www.eventbrite.com/e/youth-mental-health-first-aid-kenton-community-tickets-223392933277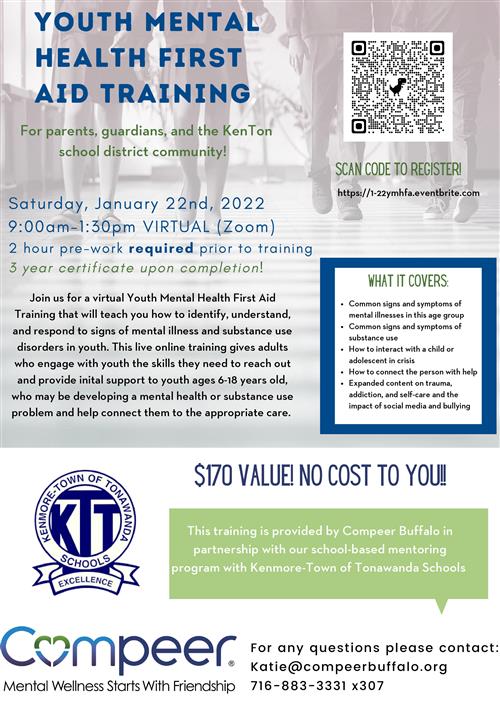 Connect With Ken-Ton Schools