Kenmore-Town of Tonawanda UFSD
Providing our students with the supports, tools, and diverse opportunities needed to meet the challenges of an ever-changing world
Return to Headlines
33rd Annual SleepOut Scheduled for Friday, Feb. 7
The Ken-Ton School District community will celebrate the 33rd Annual Jerry Starr Ken-Ton Schools' SleepOut on the night of Friday, Feb. 7, 2020 at Hoover Middle School beginning at 8 p.m.
For more than three decades, the SleepOut has raised hundreds of thousands of dollars and countless donations of food, clothing, and other everyday necessities for families in need in Western New York. Named in memory of one of its founders, the late Samuel "Jerry" Starr, the SleepOut has long since become an annual tradition of charity and giving in the Ken-Ton community.
On the night of Feb. 7, students, staff members, family members, and other participants will sleep outside in refrigerator boxes to raise money for local organizations that help those in need in the Ken-Ton community, including the Ken-Ton Closet and the Ken-Ton School District Family Support Center.
All are invited to support the SleepOut any way they choose. Participants may send in donations or drop them off the night of Feb. 7. Those who wish to "sleep out" until 6 a.m. the following morning may do so inside the cafeteria or outside in the parking lot. All donations will be distributed to local organizations and 50 percent of all money raised will support the Ken-Ton Closet and Family Support Center.
Event & Donation Information
The SleepOut begins at 8 p.m. on Friday, Feb. 7 in the Hoover Middle School parking lot along Sheridan Drive. Children and students who stay for the night must be accompanied by parents or guardians.
Hoover Middle School is located at 249 Thorncliff Road in the Town of Tonawanda. The parking lot is accessible off Sheridan Drive near the pedestrian overpass between Delaware Road and Colvin Boulevard.
Donations may be dropped off at the SleepOut site between 7:45 p.m. and 9:45 p.m. Those wishing to donate by check may make it payable to "Ken-Ton Schools – E.T.C." and mailed to Ken-Ton Schools' SleepOut, c/o Kenmore West High School, 33 Highland Pkwy., Buffalo, NY 14223. For more information on donating or participating, contact Steve Ash at 694-4492 or allhelpall@yahoo.com.
Origins of the SleepOut
The first SleepOut was organized in 1988 by the late Jerry Starr, a longtime teacher at Kenmore West High School, as well as his colleagues, Steve Ash and Charles Kohler. They later decided to name the event in honor of Starr, who was well known for always putting the needs of others before himself.
Through the tireless efforts of Ash and his organization, Educators Totally Committed (E.T.C.), the SleepOut has made a difference in the lives of countless people in the community. E.T.C. not only coordinates the SleepOut each year but also advocates for making the first Friday of February a worldwide day that emphasizes awareness, commitment, and action for those in need.
E.T.C. is a group of Ken-Ton students, faculty, staff and community members that emphasizes the importance of helping children learn responsible social behaviors at an early age through involvement in age-appropriate activities dedicated to helping people in need in their community.
Kenmore-Town of Tonawanda School District teachers, staff, students and families have always been long supporters of the effort. It has also expanded beyond the Kenmore-Town of Tonawanda School District with active involvement by St. John the Baptist Roman Catholic Church, St. Joseph's Collegiate Institute, and Mount St. Mary Academy. The Clarence Central School District is also hosting its 30th annual SleepOut this year, having founded its own annual event in 1991.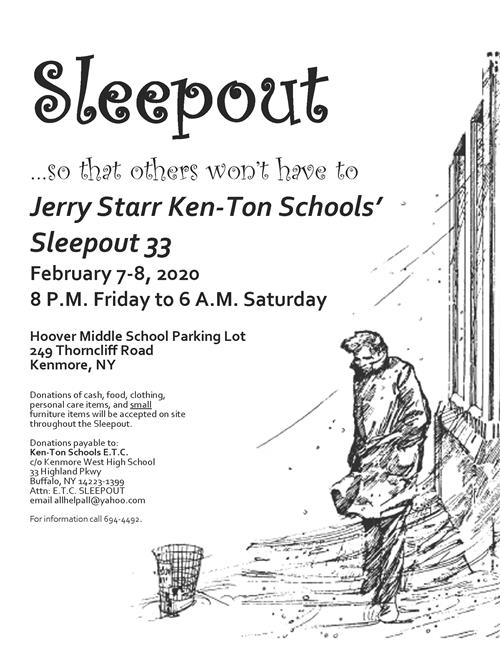 Connect With Ken-Ton Schools