Kenmore-Town of Tonawanda UFSD
Providing our students with the supports, tools, and diverse opportunities needed to meet the challenges of an ever-changing world
Return to Headlines
Kenmore West Baseball Wins Section VI Class A Championship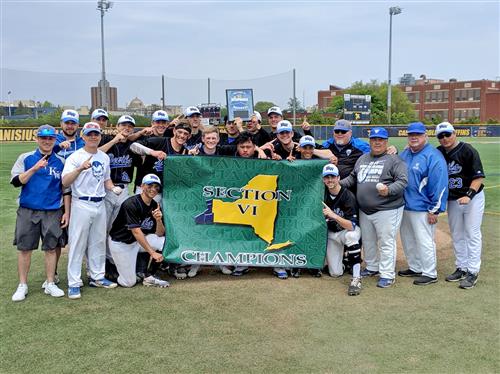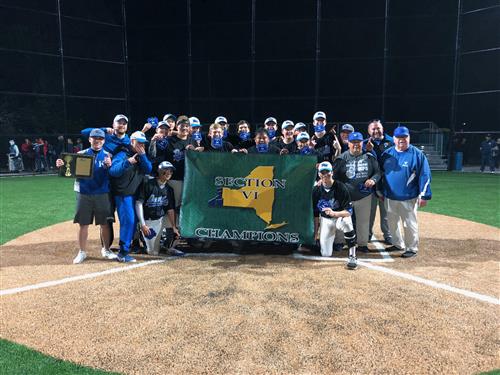 Congratulations to the Kenmore West High School Varsity Baseball Team, the 2019 Section VI Class A Champions!
Congratulations also to Coach John Haynes, who was named All-Bee Baseball Coach of the Year; Don Schmidt, who was named All-Bee Pitcher of the Year; and Zach LaPlante and Rafael Smith, who were both named to the All-Bee First Team.
Kenmore West Baseball finished the regular season with an extraordinary 16-2 overall record, clinching the NFL title after a 3-1 win over Lockport which was Coach Haynes' 100th win as coach. During the playoffs, the team defeated Grand Island and then Williamsville South before taking on Niagara-Wheatfield in the Class A-1 Championship on May 30. The team won 5-3, claiming the sectional championship for the first time in history. The Blue Devils advanced and faced Class A-2 champion Iroquois at Canisius College on Saturday, June 1, winning 8-3 to claim the overall Class A title.
The team made it all the way to the Far West Regionals on Saturday, June 8 at Dwyer Stadium in Batavia, falling to Section V Class A champion Canandaigua Academy.
Congratulations to the team, families, Coach Haynes, assistant coaches, and everyone who helped the team along the way!
Connect With Ken-Ton Schools