Kenmore-Town of Tonawanda UFSD
Providing our students with the supports, tools, and diverse opportunities needed to meet the challenges of an ever-changing world
Return to Headlines
Art Supplies Sought for Year-Long Art Initiative for Children's Hospital
Pictured above, Kenmore East and Kenmore West art students, guided by their art teachers, work on a collaborative large-scale art installation destined for Children's Hospital.
A year-long initiative by the Ken-Ton School District Art Department will soon culminate with the completion of a large-scale art installation at Oshei's Children's Hospital. As part of this endeavor, the Art Department is also creating coloring booklets for patients and is collecting donations of art supplies to accompany them.
Support from students, parents, staff, and the greater Ken-Ton School District community is needed to make this effort a success. Donations of new packages of coloring materials including crayons, colored pencils, gel pens, and markers are being accepted in all Ken-Ton schools and at annual art shows throughout the district. All art supplies collected will go directly to a patient at Oshei's Children's Hospital.
Guided by Ken-Ton School District art teachers, this groundbreaking initiative represents the collective efforts of students in grades K-12. The vision of this project is to combine the talent and efforts of all elementary, middle, and high school students to bring the joy and rejuvenating power of art to patients at Oshei's Children's Hospital.
Students' artwork will be reflected in the large-scale mural, the theme of which is "A Map of Peace." Students are also contributing the drawings which will be part of the coloring booklets that patients will receive.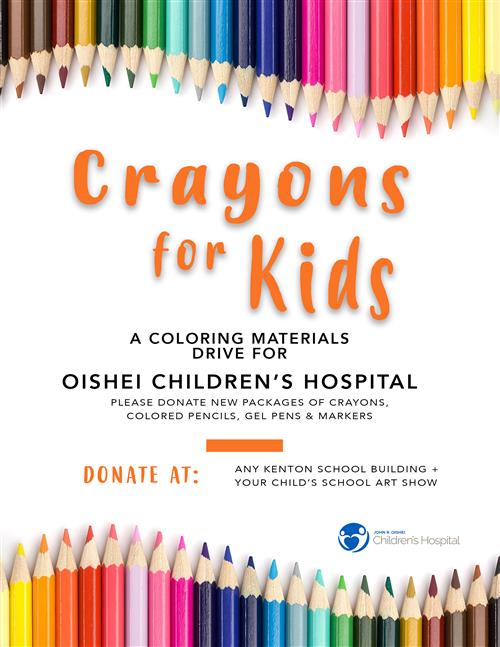 Connect With Ken-Ton Schools