Kenmore-Town of Tonawanda UFSD
Providing our students with the supports, tools, and diverse opportunities needed to meet the challenges of an ever-changing world
Return to Headlines
IB 10-Year Reunion Alumni Feature: Sarah Pray
Throughout the spring, we will be catching up with Kenmore West graduates who were a part of the first ever International Baccalaureate program at Ken-Ton. Check out our latest alumni update below.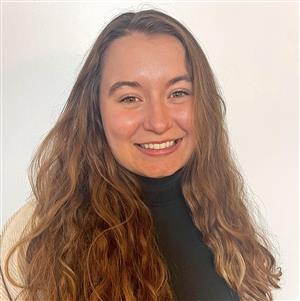 Name: Sarah Pray
Graduation Accomplishments: Sarah graduated from Kenmore West in 2013 with an IB Diploma and a Regents Diploma.
On why she decided to pursue the IB program, Sarah said, "Not only were the academics challenging, but there was also an emphasis on exploring international perspectives and community leadership. I also liked the unique class options and enjoyed the various tracks within the program to cater to students' strengths. I always knew that college was the route I wanted to pursue post-grad. I believed IB was the most effective program to give me a leg-up in college."
One experience that Sarah always remembers from IB was her CAS Project, a requirement for all IB students. Sarah's group planned a dog walkathon and wound up raising around $1,600 for the local SPCA.
On what she remembers most from her time in the IB program, Sarah said, "We had an incredible group of humans. Because of scheduling, you had almost every class together and we got to know each other very well. We shared a lot of laughs and used each other as a crutch when things got tough academically. I also remember the fantastic teachers that we had."
Outside of the IB program, Sarah was a member of the National Honors Society, was an Andrew Maisano Leadership Award winner, and was captain of the varsity women's volleyball team.
College Life: Sarah went on to study at SUNY Geneseo and received her BS in early childhood and childhood education in 2017, with a minor in English. Two years later, she graduated with a MS in reading and literacy birth-grade 12.
Post-College Journey: She began her education journey in 2018 as a 5th grade ELA and writing teacher at Warsaw Elementary School. She returned to the Buffalo area in 2020 and spent time as a 5th grade ELA and social studies long-term substitute at Hoover Middle School, before becoming a kindergarten teacher at Glendale Elementary in the Sweet Home Central School District. She also spent her free time as a 13U volleyball coach, a reading tutor, and a summer camp director. She wound up leaving classroom life less than a year ago.
Where is she now? Sarah has been an instructional designer in Rochester, NY for nearly nine months and is in charge of writing and building online and interactive courses for government organizations and nonprofits. She and her team primarily work with clients trying to prepare incarcerated individuals for life post-release. She's responsible for writing and building courses that cover life skills, job skills, health & safety, etc.
"I enjoy helping people be more prepared to enter society when released from prison," Sarah said about her job. "Our goal is to provide people with the skills needed to prevent them from ending up back in the system."
Sarah is enjoying life outside of the education field as she develops new skills, while also using the skills she learned in education – in a new way. She's not sure where the future will take her, but wherever it does, she hopes to continue helping people in a meaningful way.
She is one of the many former IB graduates who plan to attend this summer's 10-year reunion of the first ever graduating class and can't wait to catch up with old friends and teachers.
Past Alumni Features:
Connect With Ken-Ton Schools