Kenmore-Town of Tonawanda UFSD
Providing our students with the supports, tools, and diverse opportunities needed to meet the challenges of an ever-changing world
Return to Headlines
Students Honor Veterans with Assemblies, Parades, Reading Hour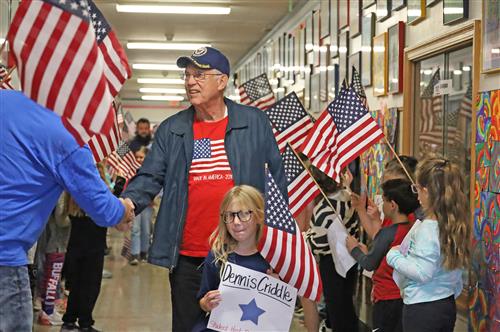 On Thursday, November 10th, the Ken-Ton School District recognized and honored the many brave men and women who've served our country.
Our schools found many different ways to celebrate Veterans Day and pay tribute to veterans in our community. This year's highlights included:
Special assemblies and receptions honoring veterans at Edison, Franklin, Hoover, and Lindbergh
At Holmes, students throughout the school made cards for veterans in the community
At Hoover and Lindbergh, veterans visited classrooms to answer questions about their service and read to students
Edison hosted a Parade of Honor as veterans walked the halls and were cheered on by students
Band students from Kenmore East and Kenmore West, led by band teacher Patrick Towey, took part in the annual Ken-Ton Veterans Day Celebration in Kenmore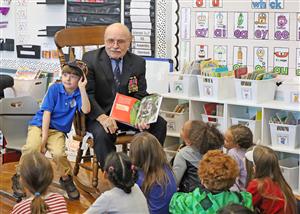 What made Veterans Day even more special this year was an extremely generous gift by the American Legion Milton J. Brounshidle Post No. 205, Auxiliary and Sons of the American Legion. You can read about that donation here.
Our heartfelt thanks go out to all current and former members of the Armed Forces for their service and sacrifice. We'd also like to thank all those who visited our students this past week or contributed to these activities for helping our students learn what it means to be a veteran. You can view the many photos from our Thursday celebrations on our Facebook page by clicking here.
Connect With Ken-Ton Schools