Kenmore-Town of Tonawanda UFSD
Providing our students with the supports, tools, and diverse opportunities needed to meet the challenges of an ever-changing world
Return to Headlines
Pure Ink Poetry Provides ELA Staff New Ways to Engage Students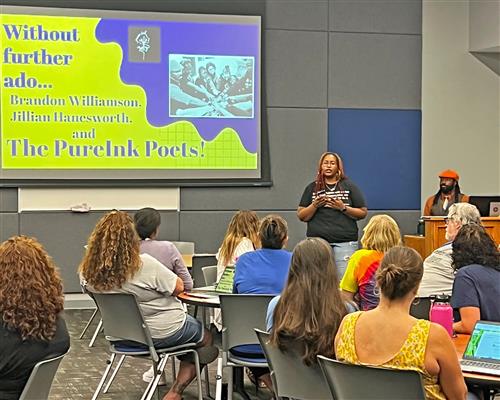 As the 2022-23 school year gets underway, our secondary English Language Arts teachers are learning how to engage their students in a unique way.
On August 30th, staff were visited by Jillian Hanesworth, Poet Laureate of Buffalo, and Brandon Williamson, founder of Pure Ink poetry, performance poet, and creativity consultant. The two provided a high-energy lesson that focused on building engagement through the use of poetry.
"Their poems are thoughtful, heartfelt, and relevant to the issues happening in our society and community today," said Instructional Support Specialist Tiffany Van Dewater. "They have a great way of bridging societal issues with creative performances that showed our educators how to possibly create lessons in their classrooms that allow their students to do the same."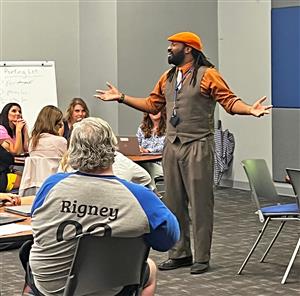 Pure Ink Poetry was founded in January 2012 and encourages engagement through literature, artistic performance, and self-expression. They host open mic nights and poetry slams along with other opportunities for performers to showcase their work.
Their recent visit to Ken-Ton was well received and opened up future opportunities that will further benefit students across our District.
"The audience learned how to perform creatively while sharing an important message, how to make our classrooms more culturally inclusive, and how to build safe and socially-conscious classroom communities," said Van Dewater. "I received such incredible, positive feedback from so many different teachers and many would like to bring the poets in to work with their students."
Connect With Ken-Ton Schools