Kenmore-Town of Tonawanda UFSD
Providing our students with the supports, tools, and diverse opportunities needed to meet the challenges of an ever-changing world
Return to Headlines
KTUFSD Recognized as Large Business of the Year by Chamber of Commerce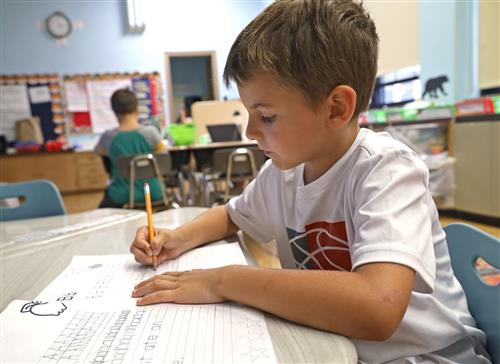 The Ken-Ton Union Free School District is proud to be recognized by the Ken-Ton Chamber of Commerce as one of their business award winners. The awards aim to recognize businesses, organizations, entrepreneurs, and young professionals who enhance and contribute to the quality of life in the Town of Tonawanda.
Ken-Ton has been recognized as the Large Business of the Year (over 100 employees). According to the Chamber, this award is given to a business with a history of long-standing success and significant economic contributions to the region.
"The KTUFSD has been a wonderful foundation to the Ken-Ton community, and ConnectLife specifically for the last 12 years. Over the years, both high schools have worked to instill an understanding of what civic engagement and active citizenship is like," Melanie Brem at ConnectLife said in her nomination of Ken-Ton. "In a much larger sense, KTUFSD has been responsible for collecting over 1,750 units of blood since our partnership started in 2010. That is nearly 5,300 lives right here in Western New York that have been impacted by the students and staff of these two high schools alone. ConnectLife could not carry out our mission without these selfless individuals."
With approximately 6,500 PreK-12 students, the Kenmore-Town of Tonawanda ("Ken-Ton") School District is among the largest school districts in Upstate New York. With rich institutional traditions and a long and proud history going back more than 130 years, the district is known for its outstanding academic and elective programs. Ken-Ton is one of only two school districts in the eight counties of WNY to offer the rigorous International Baccalaureate (IB) Program, which is highly sought-after in college admissions across the globe. Both high schools also offer NYS-certified Career and Technical Education programs, the Project Lead the Way pre-engineering curriculum, and art and music programs that are considered among the best in the region. Ken-Ton is also known for its Big Picture Program, a non-traditional high school program and the only one of its kind in WNY. Ken-Ton has fostered a world-class teaching staff through an innovative framework of mentoring, coaching, and staff development.
"This award represents exactly what our Ken-Ton community is all about," said Superintendent of Schools Sabatino Cimato. "Our staff consistently focuses on teaching students the deep impact of leading a life of service beyond the realm of academics. Our students understand that their actions today always contribute to the legacy of our Ken-Ton family tomorrow."
The winners will be honored at a luncheon on September 16th as part of the Ken-Ton Chamber's 50th Anniversary Jubilee. Other winners include Ethos Performance Rehab (Entrepreneur of the Year), Butler's Wine & Spirits (Family-Owned Business Award), and Championship Martial Arts 716 (Small Business of the Year). The event will take place from 11 a.m. to 1:30 p.m. on Friday, September 16th at Park Country Club. You can find more information and purchase tickets here.
Connect With Ken-Ton Schools