Kenmore-Town of Tonawanda UFSD
Providing our students with the supports, tools, and diverse opportunities needed to meet the challenges of an ever-changing world
Return to Headlines
'Ken-Ton Cares' Volunteers Work to Address Food Insecurity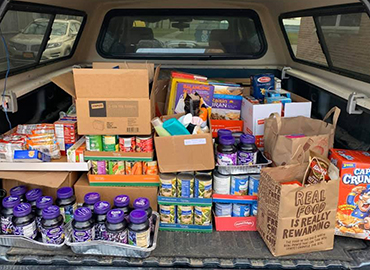 Amidst the economic and societal turmoil brought about by the COVID-19 pandemic, a group of people in the Ken-Ton community have come together to form a community-driven rapid response team, called Ken-Ton Cares, to help those struggling with food insecurity. It began as a group on social media and over the past three weeks has evolved into an army of dedicated volunteers confronting the unprecedented challenges brought about by coronavirus.
The Facebook page was created at the very beginning of the COVID-19 closures. Its organizers anticipated the adverse impact it would have on so many children and families in the Ken-Ton community, and they took to Facebook to try and make a difference.
Since then, this Facebook group has grown to include more than 1,800 members, including many Ken-Ton School District parents and staff. They have banded together to collect donations of food supplies and secure volunteers. They have pieced together a fabric of support for people struggling in the Ken-Ton community. They have begun distributing food to families in need.
The number of people in need continues to climb as the consequences of the shutdown continue to be realized. The organization will continue to collect donations of food, money, and supplies on a daily basis to continue to support the needs of children and families in the Ken-Ton community, home to more than 70,000 people.
For more information or to connect with Ken-Ton Cares, the group can be found on Facebook at www.facebook.com/groups/KenTonCares and on the Ken-Ton Closet's website at www.kentoncloset.org/ken-ton-cares. Monetary donations may be made via Paypal at paypal.com/us/fundraiser/charity/2249898 or to the Ken-Ton Closet, PO Box 343, Buffalo, NY 14223.
Kenmore or Town of Tonawanda residents in need of assistance may visit the website at www.kentoncloset.org/ken-ton-cares. There, they can find resources in the community that may be able to assist and people who can help during this time of need.
Connect With Ken-Ton Schools