Kenmore-Town of Tonawanda UFSD
Providing our students with the supports, tools, and diverse opportunities needed to meet the challenges of an ever-changing world
Return to Headlines
Students Open New School-Based Enterprise, the Bulldog Café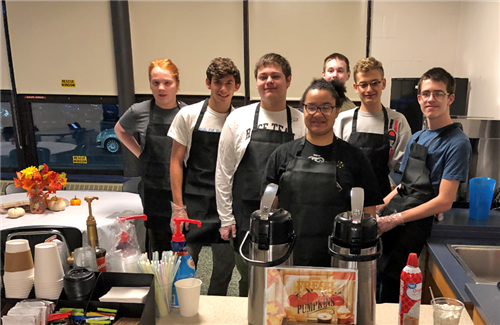 A new entrepreneurial undertaking at Kenmore East High School is providing students with real-life workplace experience while also providing a much-appreciated service for faculty and staff.
Students in the Work-Based Learning program have opened a new school-based enterprise, the Bulldog Café, which offers coffee and other beverages to faculty and staff in the early morning every Tuesday and Thursday before school.
The coffee cart was constructed by family and consumer science (FACS) teacher Kim Schildwaster and technology teacher Alexander Sowydra. The students get to school early in order to prepare the coffee and cart.
This is enabling the students in the WBL class learn all about workplace skills as well as the ins and outs of running a small business and food service operation of their own, such as budgeting, marketing, and sanitation.
The class is taught and supervised by Mary Ellen Reinoso, special education teacher and Transition Coordinator, and Mrs. Schildwaster.
The Bulldog Cafe has been embraced by the Kenmore East teachers and staff, the Special Education Parent Teacher Organization (SEPTO), and the Ken-Ton School District special education administration.
School-based enterprises are entrepreneurial operations that function like small businesses managed and operated by students. They help students build vital workplace skills and experience in areas such as marketing, finance, and hospitality management.
Mrs. Reinoso and Mrs. Schildwaster are very proud of the students' hard work and the effort they have put into their new enterprise.
Connect With Ken-Ton Schools