Kenmore-Town of Tonawanda UFSD
Providing our students with the supports, tools, and diverse opportunities needed to meet the challenges of an ever-changing world
Return to Headlines
'Pinwheels for Peace,' Student Rally & Summer Reading Celebration
Lindbergh Elementary has enjoyed an exciting start to the 2019-20 school year which has so far included a summer reading celebration, a school-wide rally, and the "Pinwheels for Peace" initiative.
Even before the school year began, there was very high turnout at the supply drop-off day on Thursday, August 29. Parents and students enjoyed seeing their classrooms and meeting their new teachers.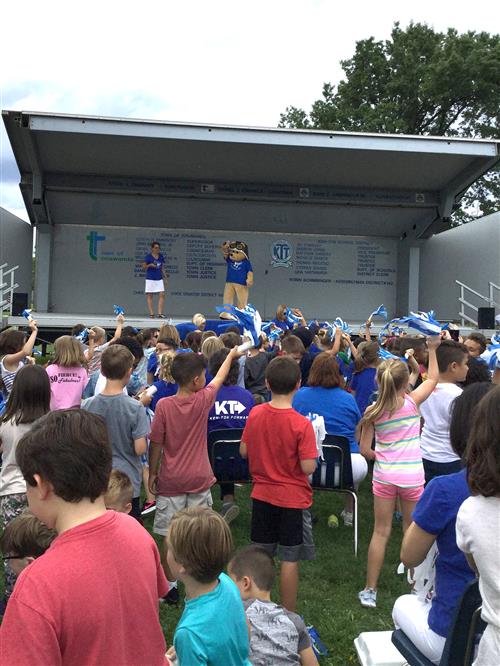 Then, on Friday, Sept. 6, the school welcomed all the staff and students back to school with a special PBIS kick-off assembly in the back field. The Town of Tonawanda trailer was set up, music was playing, and Lucky Lindy (the school mascot) made a special appearance. The assembly introduced new students and all staff members to the school community to enhance the staff/student connection. The staff and students were welcomed back by Principal Ann Maccagnano and it was a fantastic reunion with a lot of smiles and cheers.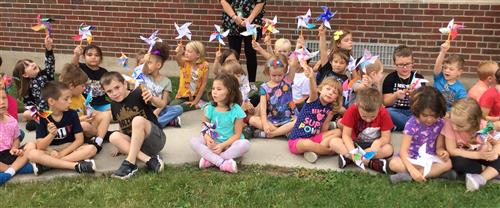 Pinwheels for Peace
In September, the "Pinwheels for Peace" project came to Lindbergh Elementary with more than 500 pinwheels planted outside the school.
Pinwheels for Peace is a project that began in 2005 by two art teachers in Florida. They wanted a way for children to express their feelings about challenges in the world as well as challenges in their own personal lives. Each year on Sept. 21, groups from all over the world plant pinwheels with messages of peace. Last year, more than 4.5 million pinwheels were spinning in 3,500 different locations.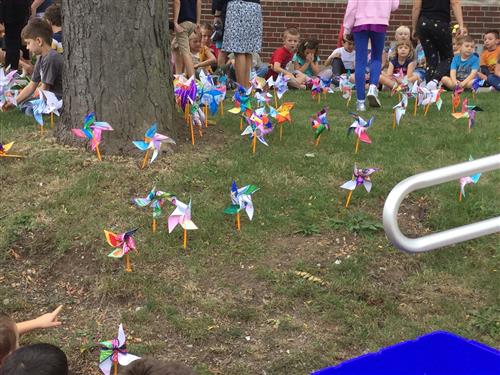 The students at Lindbergh Elementary began decorating pinwheels at their field day in June and finished them in art class in September. The pinwheels are beautifully decorated with colorful designs, collages, and messages of peace. On Monday, Sept. 23, over 500 pinwheels were planted by the students. Art teacher Lavinia Kirdani shared a message of peace and every student recited a special Pledge of Peace. Everyone enjoyed watching the beautiful pinwheels spinning in the wind as their messages of peace and hope were shared with the world.
Summer Reading Success
Students who had participated in the summer reading program also enjoyed an ice cream social as Lindbergh Elementary set a summer reading record this year. Each summer, the students are challenged with a reading goal to achieve over the summer. This year, 161 students achieved their summer reading goal compared to only 17 students last summer. Reading specialist Ellen Gossel was ecstatic with the success this year and attributes this increase in summer reading success to strong communication including notification reminders throughout the summer.
"Sending shout-out reminders – two in July and two in August – really worked," she said.
As a reward for the students' hard work, successful students were invited to an ice-cream social in the cafeteria. Mrs. Maccagnano announced each name and presented them with a Reading Challenge Certificate. Each child also received a Certificate of Achievement from the Texas Roadhouse which is good for one free meal.
A big thank you went out to Mrs. Gossel for organizing the initiative and communicating with our families as well as the PTA for supporting this challenge and for all the parent volunteers that helped at the ice-cream social.
Connect With Ken-Ton Schools