Kenmore-Town of Tonawanda UFSD
Providing our students with the supports, tools, and diverse opportunities needed to meet the challenges of an ever-changing world
Return to Headlines
KW Senior a Semi-Finalist at National Shakespeare Competition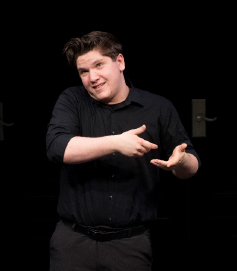 Kenmore West High School student Joshua Sinclair, a student of Kenmore West theater teacher Diana Gruninger, was a semi-finalist at the 36th Annual National Shakespeare Competition in New York City.
The competition took place April 29 to celebrate William Shakespeare's birthday and included 50 students from around the U.S. on stage at the Mitzi E. Newhouse Theater at Lincoln Center Theater. The event was the culmination of a year-long competition hosted by the English-Speaking Union (ESU). Joshua won the 2019 Regional Shakespeare Competition sponsored by the Niagara/Frontier Buffalo branch of the ESU, which earned him a place at the national semi-finals.
"I am always amazed by the delight and focus these students bring to their investigation of the text. They often bring surprises in interpretation that are entertaining and enlightening," said Veteran judge and acclaimed actor Dana Ivey.
Each year, more than 20,000 high school students participate in the ESU National Shakespeare Competition at the school, regional and national levels through the help of more than 2,500 teachers and 53 ESU branches nationwide. As part of the competition, students perform a monologue and recite a sonnet from Shakespeare and are judged on their understanding of their selected texts and on their ability to communicate their interpretation to the audience. Through this school-based program, students in Gr. 9-12 develop critical thinking and speaking skills and increase their self-confidence through the performance of Shakespeare's work.
Connect With Ken-Ton Schools