Kenmore-Town of Tonawanda UFSD
Providing our students with the supports, tools, and diverse opportunities needed to meet the challenges of an ever-changing world
Return to Headlines
Kim Roll Wins NYS Outstanding Food Service Director Award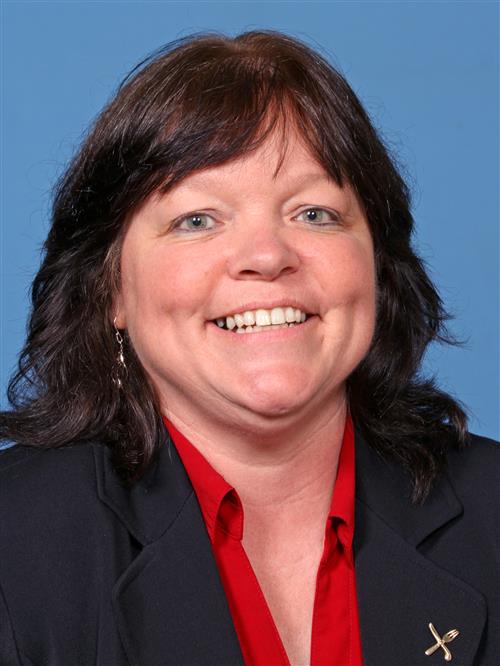 Kim Roll, Food Service Director
Kim Roll, Ken-Ton School District food service director, won statewide recognition as the recipient of this year's New York School Nutrition Association's Outstanding Director of the Year Award.
In announcing the award, NYSNA President Sandy Cocca cited the effectiveness of the Ken-Ton food service program and the healthy, appealing options offered daily to students.
"School food service directors are responsible for all aspects of food service operations, including budgeting, staffing, training, marketing, as well as championing the benefits of these programs to students, the education community, and the public," Cocca said in the award letter. "This award recognizes your outstanding contribution as a food service director who manages an effective program which provides healthful, appetizing and nutritious meals to students."
School district food service directors face a challenging task. They must oversee a major area of school operations that spans all buildings and grade levels, and are responsible for providing breakfast and lunch every school day for all participating children. In Ken-Ton, that is approximately 3,500 students for lunch and 1,700 for breakfast across 10 buildings.
Food service programs must ensure that breakfast and lunch options are not only healthy, made from wholesome ingredients, and in compliance with complex state and federal requirements, but are also appealing to children and teenagers. They also must accommodate students with special dietary restrictions.
In Ken-Ton, all meals meet state and federal requirements based on U.S. Department of Agriculture dietary guidelines and reflect the most important principles of maintaining a healthy diet: variety and balance; overall calorie content and portion control; minimal saturated fats, trans fats, added sugars, and sodium; and the inclusion of fruits, vegetables, and whole grains. Lunch menus include steamed brown rice in place of white or fried rice; pizza made from whole grains; low-fat oven-baked fries; vegetarian beans and black beans; and "Harvest of the Month" options that may be new to many students such as kale (October), winter squash (January), and cabbage (March).
The Ken-Ton food service website at www.ktufsd.org/nutrition allows parents to not only see the breakfast and lunch menus but also find nutritional information for every individual item.
"It was very gratifying to receive this recognition on behalf of the entire Ken-Ton School District Food & Nutrition Services Department," Roll said. "It is a reflection of the incredible work taking place in our kitchens and cafeterias throughout the district to promote healthy habits and support the well-being of students and their ability to thrive in school."
Roll has served as Ken-Ton School District food service director for 18 years. During this time, she and the district have won multiple recognitions, distinctions, honors and awards for the food service program. This includes numerous New York State Best Practices Awards and HealthierUS School Challenge Awards, as well as a first-place showing for breakfast expansion from the American Dairy Association. Roll was also a recipient of the 2016 Western New York Educational Service Council Award for Excellence.
Roll has worked tirelessly to promote participation in the breakfast and lunch program while offering healthy and innovative options and also connecting students to unique opportunities, such as special partnerships with the Buffalo Bills and NFL Fuel Up to Play 60.
Connect With Ken-Ton Schools