Assistant Principals' Page: Ms. Jaros & Mrs. Buffomante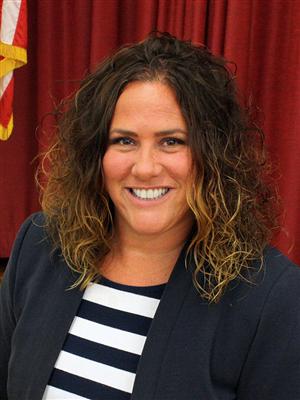 A note from Ms. Jaros:
Michelle Jaros is the grade level Assistant Principal for grades 5 and 7. Michelle joins the Hoover team from Kenmore West where she served as Assistant Principal for 5 years. She started her educational career as a social studies teacher in NYC before moving back home to Buffalo. She has 10 years of administrative experience. Michelle holds a Bachelor of Arts (SUNY Albany), a Juris Doctor (SUNY Buffalo), a Master of Science in Education (Niagara University) and her administrative certificate (CUNY Baruch).
I am truly honored to join the team at Hoover Middle School. I can not wait to work with such a highly qualified staff and faculty. I am most excited about meeting all of the students coming to Hoover Middle School, new and old, who everyday bring their best self to school expecting to feel safe, supported and educated. I will work diligently every day to ensure that their expectations are met and that they, in return, get my best self!
A note from Mrs. Buffomante:
I found my passion for education at a young age. My first student was my younger sister Jenny inside my makeshift classroom located in the basement of my home. Jenny sat next to stuffed animals and Barbie dolls, all equipped with the necessary school supplies to progress through my reading lessons. Now, you can always find me at family gatherings chatting with my young cousins about their summer reading assignments or current course load. The art of teaching will forever be a part of my soul.
My experiences as an evolving teacher and school leader had a meaningful impact on what traits I feel a successful educator should encompass. Specifically, Mrs. Rebecca Hillman taught me to be trustworthy, model professional behaviors, and be kind. In addition, Dr. Jevon Hunter, Woods-Beal Endowed Chair at Buffalo State College, has become a valued professional mentor. Our continued collaboration and action research on multimodal literacies and instructional technologies has afforded us the privilege to present on local and national stages with young people from the city of Buffalo. In the winter of 2013, we presented our findings in Boston at the National Council of Teachers of English Conference entitled "(Re)Inventing the Future of English." In addition, you can find our work published in the March 2014 English Journal linked here.
I obtained my bachelor's, two master's degrees and certifications in Elementary Education, English 7-12 and School Building Leadership through the University at Buffalo and Buffalo State College. I have experience teaching elementary, middle and high school English. I also have shared the understandings I have developed on instructional pedagogies, classroom culture and proactive management as an Instructional Coach. A highlight in my career involved co-creating the first Western New York Charter School Alliance Best Practice Conference. The purpose of this unique event was to build capacity and share the immense talent housed in each of our schools. Sessions were taught by educators at all grade levels, school counselors, support staff, and administrators. We also came together as a whole group to hear Dr. David Kirkland of New York University speak about tapping into the cultural literacies of our young people. Lastly, important to every special occasion is the food. In that, we all enjoyed a delicious lunch from one of Buffalo's favorites, Lloyd's Tacos!
I firmly believe in leaving students walking a little bit taller after working alongside of them. Doing such work involves promoting their academic and character development. I am enthused that my professional philosophy is in alignment with the traits in the ROARS code!