In February 2016, the Ken-Ton Board of Education adopted the District Plan for Participation of Parents and Teachers in School-Based Planning and Shared Decision Making. This plan provides the overarching framework of the Shared Decision Making Team (SDMT) process in the Ken-Ton School District.
Shared Decision Making in the Ken-Ton School District is facilitated School Shared Decision Making Teams in each school building and a District Shared Decision Making Team. These teams serve as key communication and collaboration structures at the district and school levels.

The purpose of the SDMTs is to engage all stakeholders in the important work of school governance. Each school building has an SDMT consisting of administrators, teachers, support staff, parents, and community members. The School SDMTs meet at least monthly. The District SDMT convenes quarterly and includes representation from each School SDMT, as well as additional administrator, teacher, parent, and community representatives.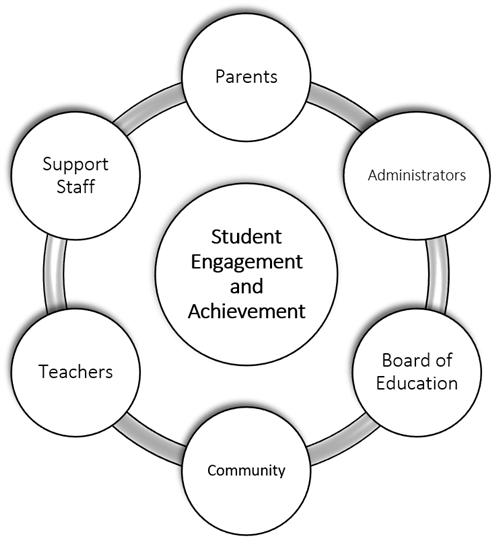 Click here for information on the School Shared Decision Making Teams
Click here for information on the District Shared Decision Making Team
Information on Decision Making:
Decision making by the School and District SDMTs is by consensus. Consensus is the process of reaching a common understanding or agreement through collaboration, cooperation, and participation. When working to reach consensus, team members should understand that the goal is to arrive at a decision that all team members are willing and able to support. Consensus does not always mean total agreement.
The consensus-oriented decision-making (CODM) model provides a framework to guide the SDMT collaboration and decision making process. This framework is not required yet the framework provides a structure for discussion. The process involves seven key steps:

If a School SDMT is unable to reach consensus, the team will bring the issue to the District SDMT to assist them in resolving issues and reaching consensus.
Rights and Responsibilities:
Each member of the SDMT participates in order to help create the conditions necessary for all students to engage and achieve in school. That positive presupposition guides the work of the SDMTs across the district. As an active and engaged member of the team, each SDMT member has certain rights and responsibilities.
SDMT Members have the right to:
Be heard

Their own opinion

Voice their concerns during the meeting

Raise concerns about SDMT committee work or processes

Advocate on behalf of the constituent group they represent
SDMT members have the responsibility to:
Speak up

Respect the opinions of others

Share their ideas

Speak respectfully at all times

Participate in problem solving until consensus is reached

Publicly support the decisions of the SDMT at the conclusion of the meeting